5 Tips for Conserving Fuel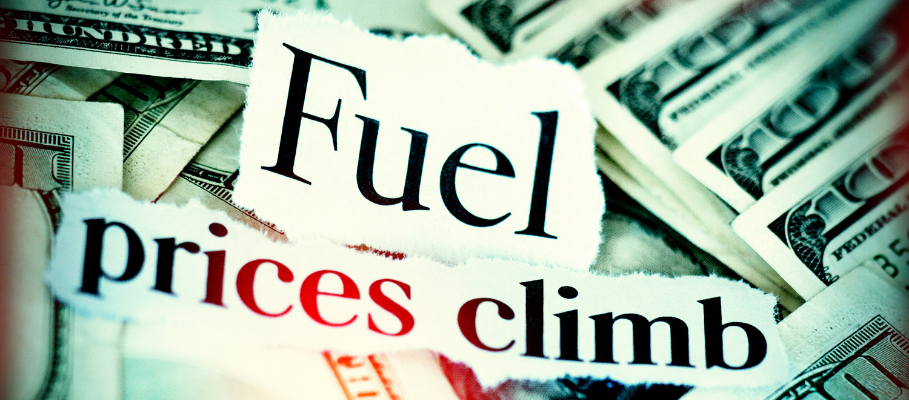 These days, the glowing numbers on gas station signs cause drivers to wince as they pass. What once was affordable for most drivers now costs anywhere between $4 and $6 a gallon in some areas. This surge in fuel prices has become a top concern for consumers, affecting drivers and the broader economy. 
Higher fuel prices, especially diesel, strain owners and operators, affect the cost of goods that require transportation via truck, and so much more. In this article, we will look at the reason behind increasing fuel prices, who they affect, and what drivers can do to conserve their fuel.
Fuel prices continue to climb, but why?
The Russian invasion of Ukraine primarily influences today's surging fuel prices, however, prices were on the rise well before the war. Before the COVID-19 pandemic settled in, energy producers reduced their investments and cut back on projects that were less than profitable. Once the pandemic hit, these same producers minimized output even more as the need for petroleum diminished due to quarantine restrictions.
The economy has since reopened, goods are being manufactured, and the roadways are filled once again. The reboot of society led to a surge in demand and a tightening oil market that led President Biden to tap into the Strategic Petroleum Reserve in hopes of leveling prices, but this plan failed.Once Russia invaded Ukraine, the already fragile energy market was sent spiraling downward. With Russia being the largest oil exporter in the world and the U.S.'s ban on Russian oil imports, U.S. oil reached its highest price point since 2008 at $130 per barrel.  
Oil companies are now reluctant to drill and face obstacles like labor shortages and increasing prices for parts and raw materials. On top of that, Russian petroleum product exports are being sanctioned, pushing the price of diesel higher than ever.
All of these factors contributed to the national average of a gallon of gas reaching $4.589, according to AAA. Now, every state in the U.S. averages more than $4 per gallon. In some areas, like California, they're averaging above $6. And diesel prices retail at an average of $5.577 a gallon, which is 76% higher than last year's average.
Who is affected by rising fuel prices?
Higher fuel prices impact not only consumer spending but also company spending, affecting many industries, including transportation. For instance, Target is the latest company to speak out about its struggles with higher costs. Target CEO Brian Cornell said, "We did not anticipate that transportation and freight costs would soar the way they have as fuel prices have risen to all-time highs." Cornell estimates that the higher fuel costs will run the company approximately $1 billion in incremental costs this fiscal year. Walmart executives had similar concerns, "fuel ran over $160 million higher for the quarter in the U.S. than we forecasted."
But the prices aren't just impacting domestic costs. Companies like Tractor Supply and Amazon have noted that their import freight costs have increased over the last year. Currently, the cost to ship an overseas container has doubled compared to pre-pandemic rates. Even the airline industry is experiencing the effects of higher fuel prices. The CEO of United Airlines explained that jet fuel prices would cost the company $10 billion more than in 2019.
The ultimate worry for freight companies is how the higher fuel prices will affect the overall cost of operations. A carrier moving shipments from the West Coast to the East Coast will have to pay approximately $1,000 more in fuel costs than in 2021. If things continue in the same direction, this inflation will impact truckload shipping, ocean freight shipping, air cargo shipping, and train shipping costs, which will ultimately cause a domino effect throughout the economy.
5 Tips for Conserving Fuel
Conserving fuel is no longer just a want or a good deed. It's now something we must do to save money. In the U.S. alone, the trucking industry consumes approximately 38 billion gallons of diesel annually. And 39% of drivers' operating expenses come from fueling their rig. So, drivers must do what they can to improve their fuel economy.
Here are a few ways they can do so:
1. Drive more responsibly
Follow speed limit signs and take things slow. Studies show that every 5 mph over 65 mph yields a 7% decrease in fuel economy. You can also do things like:
Switch off the air conditioner (weather permitting)
Avoid idling unnecessarily
Turn off your engine when not in use
Use cruise control on the highways (if possible)
2. Improve your truck's aerodynamics
Research shows that about half of a truck's fuel is consumed, overcoming aerodynamic drag while traveling at highway speeds. Lucky, there are a few simple ways to improve your truck's aerodynamics, including using a roof-mounted cab deflector, a deep angled bumper, or a sun visor to push wind to the top of your trailer. You can also use side fairings to avoid turbulence underneath your trailer.
3. Be conscious of the traffic conditions
Every time you have to restart your rig due to stop-and-go traffic, you use a considerable amount of fuel. So, it's essential to use your GPS and monitor traffic conditions to get to your next location efficiently. Avoiding traffic will also help your clutch last longer.
4. Engine oil & fuel
By simply using the recommended grade of motor oil for your truck, you could improve your fuel mileage by up to 2%.
We also recommend:
Filling up your truck first thing in the morning
Pump fuel at a low setting to minimize vapors
Fill up well before you reach 'Empty'
5. Conduct regular maintenance checks
Regular maintenance can go a long way in saving you fuel.
Maintenance practices include:
Filling up your tires and changing them when needed
Checking your trailer and drive axle alignment
Watch for any fluid leaks
Invest in an engine overhaul if yours is older
Replace any old or worn-out parts, like fuel injectors
At the end of the day, improving your fuel efficiency by 2% to 3% can help you save your hard-earned money and keep your rig running like new.
More Like This:
→ How the Truck Parking Crisis Affects Us All
→ Top 6 Ways for Fleet Owners to Conserve Fuel