5 Signs of a Bad Clutch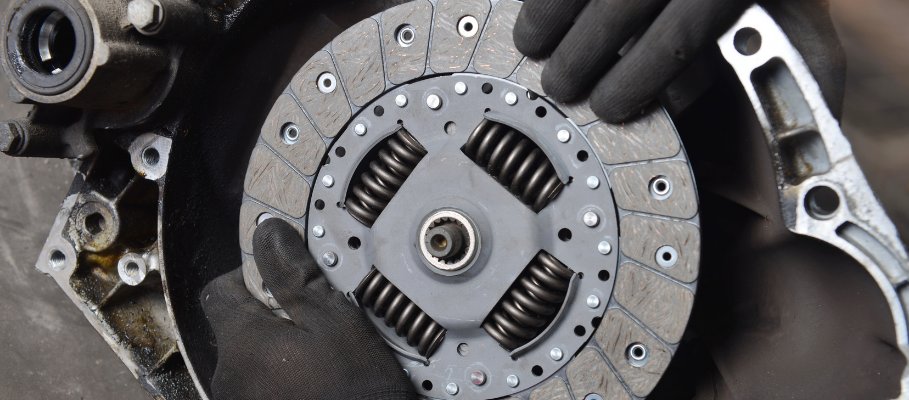 For heavy-duty trucks, the clutch plays a crucial role in the rig's full functionality. The mechanical piece acts as the link between your engine, transmission, and driveshaft and allows drivers to shift between gears while hauling freight. The clutch also optimizes your engine's performance, maximizes your rig's fuel economy, and helps drivers achieve top-notch safety, when properly maintained.
While most clutches are designed to withstand long hauls and excessive use, these mechanical links are not indestructible. The fact is, at some point in your driving career, you're guaranteed to replace a clutch or two. How often you replace them depends on several factors, including how well you operate the equipment and the amount of maintenance you put into it—but you'll still replace the piece, eventually.
Signs of a failing clutch and how you can fix it.
As previously mentioned, the life of a clutch can vary depending on the application, hauling frequency, and the weight of your cargo; even the amount of traffic you face can have an effect. And while some modern rigs offer a maintenance light for the clutch, older rigs don't have the luxury. So, how do you determine a failing clutch before it becomes a dangerous problem?
Here are the most common indicators to listen and feel for when determining the state of your clutch:
1. The engine is running fast, but the rig is moving slow.
When it feels like your engine is running faster than your rig, you may be experiencing "clutch slippage." This issue occurs when the clutch's ability to generate friction is compromised.
The issue is, the clutch relies on this friction to turn the flywheel, and without it, the clutch has to work harder to produce less energy, resulting in the engine running harder than your truck. This could also cause your engine to be noticeably louder when accelerating.
So, what causes slippage, and how do you fix it? Generally, slippage is caused by wear and tear on the clutch or heat damage from "burning the clutch." The problem can also be due to an oil or transmission leak, or occur when the pressure link is damaged or does not transmit adequate force due to a blockage or rust damage.
2. When the clutch pedal is pressed, you hear a squealing or chirping.
If your clutch pedal is squealing or chirping, it's likely due to an issue with the throwout or pilot bearing. To avoid this problem, regularly check the parts and keep them well-lubricated to avoid frequent rubbing.
3. The pedal is noisy, sticky, spongy, or loose.
If you notice the pedal making any abnormal noises or feeling sticky/spongy, you may be looking at an issue with the clutch fork. This problem can be due to inadequate lubrication or general deterioration and can be determined/fixed by a technician.
If the pedal squeaks or feels loose, you may need to replace the pedal's spring or another ill-fitting component.
4. The clutch won't engage.
A few different things could cause this issue of a sticky or unresponsive clutch. For starters, there may be an issue with the clutch pedal not being compatible with a specific part or component. However, you could also be looking at a problem with the clutch disc or pressure plate.
The possibilities for this problem are somewhat endless, so it's best to have a technician run further diagnostics tests to determine the cause and solution.
5. You hear a grinding noise.
This grinding noise is often called a "dragging clutch." While this could result from an issue with the pressure plate or throwout bearing, it's typically a problem with the release mechanism.
When you press the clutch pedal, your clutch should release so you can change gears without grinding them. However, if there's a problem with the release, the gears will create a grinding sound and, in turn, damage your transmission.
You will most likely need a new clutch assembly to resolve this problem, but you should have a technician inspect your pedal to ensure all components are correctly installed.
If you notice any of these signs, it's vital to make an appointment with a trusted mechanic or service technician. They will be able to diagnose your clutch's issue properly and determine which parts and/or repairs you may need.
How to optimize the life expectancy of your clutch.
Whether you're replacing parts of your clutch system or replacing the entire mechanism, every truck driver will eventually be forced to replace their clutch. However, with proper maintenance and regular inspections, you can optimize the life and performance of your clutch and keep on trucking.
Below are the best ways to keep your clutch in top shape:
1. Don't ride the clutch.
You've probably heard this statement before, but it's essential for a long-lasting clutch. After a long haul, it can be easy to rest your foot on the clutch pedal or leave it halfway down to make changing gears more manageable. But, in the long run, the minimal amount of comfort you will achieve is not worth the excessive amount of damage to your clutch and transmission.
Bottom line, when you aren't shifting gears, keep your foot off of the clutch. Instead, use the dead pedal or the floor.
You should also avoid using your clutch as an alternate brake or as a way to prevent your rig from rolling back on hills.
2. Be sure to shift gears properly.
To properly change gears, only shift after you've fully engaged the clutch and keep the pedal down until you're in gear. Once you're where you want to be, come off of the pedal quickly and smoothly.
It's vital to the longevity of your clutch to make decisive changes. And while a few modulations may be necessary when coming out of first gear, it's essential to not leave your clutch in between the "engaged" and "disengaged" positions for too long.
3. Always park in neutral.
When parking your heavy-duty truck, be sure to park while in neutral. To do so, put your transmission in neutral, then apply your parking brake. After that, shift into first gear if facing uphill, or reverse if facing downhill. Following these steps will not only prevent your rig from rolling away but will also ensure that there is no excess pressure on your clutch.
How a repair loan can help.
When your truck breaks down or needs parts and repairs, your income and livelihood are put at risk. And if the repairs or parts required aren't within your budget, you could be facing quite the predicament. Fortunately, Mission Financial Services can help by offering specialized commercial vehicle repair loans that assist in covering the cost of repairs and help get your rig back on the road.
To obtain a commercial vehicle repair loan, you will need to complete and submit three online forms, including a credit application, vehicle spec sheet, and sales order.