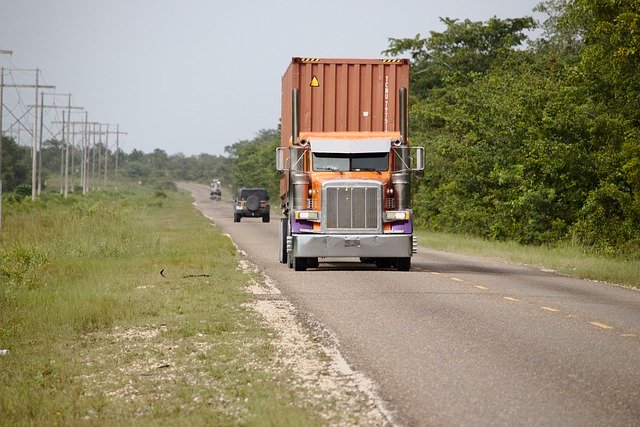 You spend countless hours on the road as a truck driver. It's essential to have a comfortable seat that supports your body and helps you maintain good posture.
A study has shown that 50.3% of participating truck drivers experienced lower back pain in the month prior to the research. With the right seat, you'll find yourself less tired and more easily able to concentrate. This is crucial for a safe journey, especially on long-haul trips.
This article will explore the best seat for semi-truck drivers. Let's help you find the best seat for a semi-truck!
Best Seat For Semi-Truck Drivers: Top 6
1. National Commodore Series Truck Seats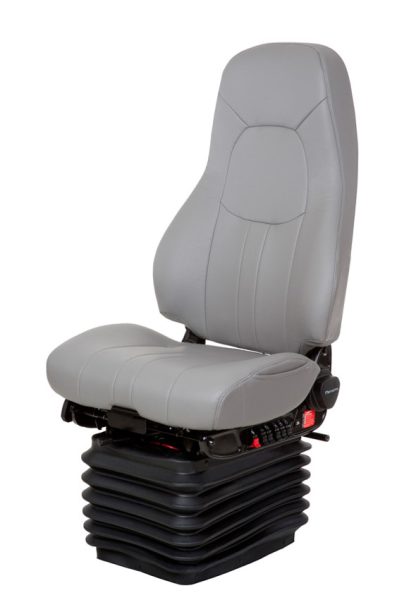 Credit: National
National Commodore Series seats are among the best when driving a semi-truck. Long-distance driving can require a lot of focus, especially when the weather is extreme. Here are some tips for driving a semi-truck in winter.
When it comes to maintaining focus on the road, a great seat is an absolute must. This seat provides comfort that can alleviate the aches and pains that come with sitting for hours.
The design of these seats focuses on reducing road vibration. These come with lumbar support, and a BackCycler system. This feature helps improve circulation, prevent muscle strain, and minimize spinal disk pressure and compression.
National Commodore seats provide ample space. These seats have a large ergonomic back and a 23-inch wide seat cushion. You can recline your seat up to 23 degrees. You can also opt for National's 17-inch armrests. However, these do come at an additional charge.
If you're looking for custom features, heating, cooling, and massage options are available. There are also a variety of colors and combinations to choose from, helping you keep to your truck's interior design. As a bonus, these seats come with dual-side cushion map pockets.
Pros
23-inch wide cushion for ample space.
BackCycler system to relieve back strain on long drives.
Various colors and optional features.
Seats can recline up to 23 degrees.
Cons
17-inch armrests are an additional charge.
2. Bose Truck Ride Seat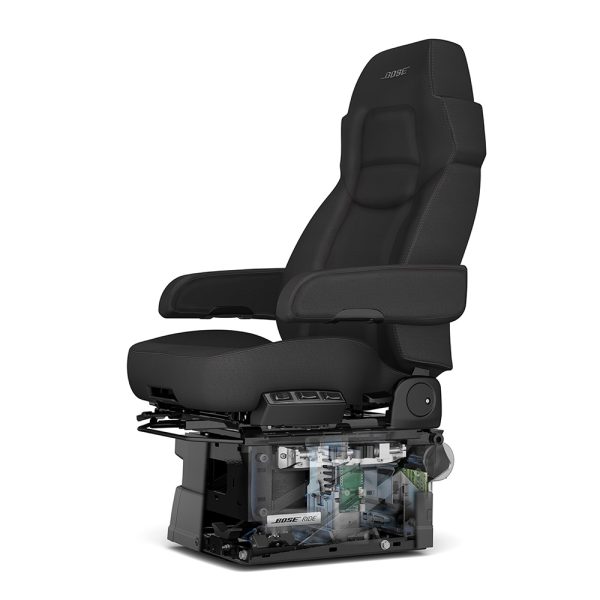 Credit: Bose
The Bose Truck Ride Seat is one the most popular choices among truck drivers, and for a good reason. These seats come at a higher price than the National Commodore seats.
Still, if adjustability is crucial to you for your truck seat, the extra cost may be worth it. These Bose semi-truck seats focus on creating an ergonomic experience. There are three switches to adjust the height, upper, and lower back. This function helps to reduce pressure on your back and creates a comfortable experience.
To add to your comfort, you can adjust the overall seat for a soft, firm, or in-between feel. Switching these settings off will create a regular semi-truck seat feel.
Unlike the National Commodore, it does include armrests at no extra cost. The 22-inch wide seat provides ample cushioning. However, the main downfall is the need for heating, ventilation, and massage functions.
As a bonus, this seat protects you from the many uncomfortable bumps you may experience on the road.
Pros
Protection from road bumps.
Personalized adjustment options.
22-inch wide seat cushion.
Armrests are included at no additional cost.
Cons
More expensive than others on the market.
No ventilation or heating options.
3. Knoedler Truck Seats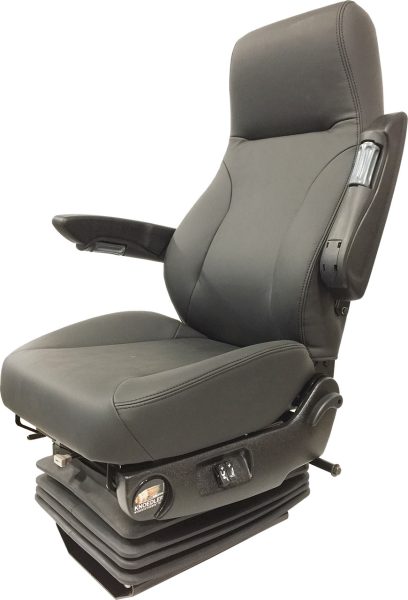 Credit: Knoedler
Since, 1946, Knoedler has had a reputation for producing top-tier truck seats. However, these seats are more pricey than others on the market. Knoedler offers a diverse line of semi-truck seats with customizable options. Each option provides adjustability and comfort.
Each chair has a foam cushion designed to increase comfort and support. With built-in lumbar support, these seats help relieve back pain and pressure in the lower back. These also work to combat fatigue and spinal disk compression. These seats are ergonomic and increase circulation and focus.
The Knoedler design offers upgrades and customizations to enhance your road journeys. For example, you can choose different colors and material options. You may also be interested in massage, heating, and cooling add-ons.
Cushions come in sizes ranging from 20.5 to 23 inches, providing ample space for you. You can order your new seat and preferred cushion foam for ultimate comfort. You can add on single or dual armrests at an additional cost. Unfortunately, more extended armrests aren't available for order, which may be uncomfortable for some drivers.
Pros
Customizable to driver's preferences.
Built-in lumbar support.
Relieves driver fatigue and boosts concentration.
Cons
More expensive than others on the market.
Armrests aren't available in extended sizes.
4. Bostrom Talladega T-Series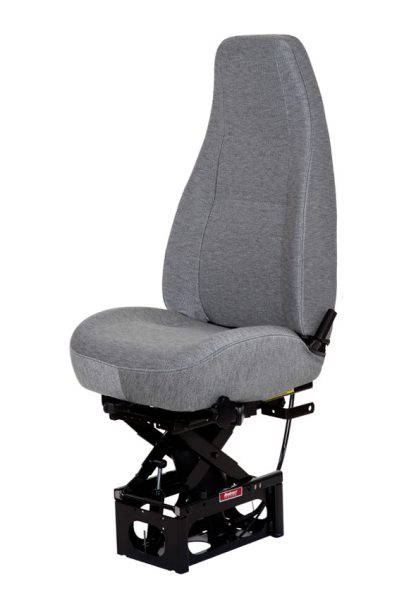 Credit: Bostrom Seating
Bostrom T-series seats are an excellent choice for truck drivers looking for a comfortable and supportive seating option. Relative to other options on the market, these are budget-friendly. They are built with a sturdy, heavy-duty steel frame, which makes them a durable choice.
These seats are fitted with an ergonomic manual Flex Support System and an adjustable headrest. This helps to reduce back soreness, stiffness, and lumbar compression. It also helps to keep any changes in seat position, tilt, and height from affecting your lumbar support.
These seats feature contoured cushions that help to reduce fatigue and improve concentration, making you less likely to get distracted. Unfortunately, if you're looking for extendable seat cushions, Bostrom won't be able to assist you.
The Bostrom brand boasts many upgrades and add-ons, including armrests, that give you the ultimate seat for your truck driving experience. These seats are a stylish option for almost any semi-truck, regardless of size.
Pros
Affordable.
Optional add-ons and upgrades to suit every driver's needs.
Manual lumbar support function.
Stylish.
Cons
Armrests are an extra cost.
No extended cushions available.
5. Legacy Lo Seat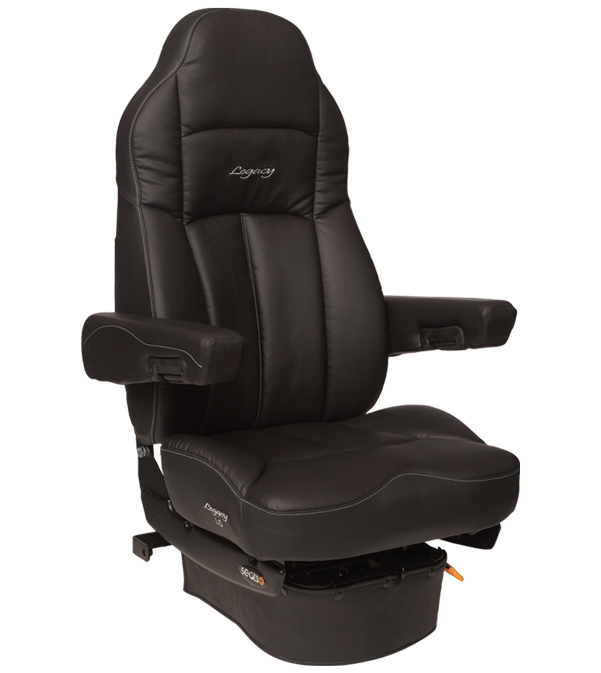 Credit: Seats Inc.
Legacy Lo Seats are high-quality seats designed for truck drivers looking to sit lower in their trucks. The material used is a standout feature that's both durable and comfortable, making it an excellent choice for long-haul trips. These seats come with spacious cushions and are made with high-quality materials.
With adjustable features, such as fully-reclining high backs and air lumbar support, you'll reduce back strain and muscle soreness in no time. Increased blood flow is also an advantage of choosing this seat.
The Legacy Lo Seats have a built-in air suspension system that helps absorb shocks and vibrations, providing extra comfort on your trips. In return, you'll start seeing a difference in your fatigue and concentration levels!
If you prefer to have extra-long armrests, then you're in luck. Extended armrests are also available. These are easy to adjust to your preference. However, these come at an additional cost to this more affordable driver's seat.
Pros
Built-in suspension.
Affordable.
Spacious cushion.
Full-reclining seat.
Cons
Additional fee to upgrade to extended armrests.
6. Sears Seating Atlas II DLX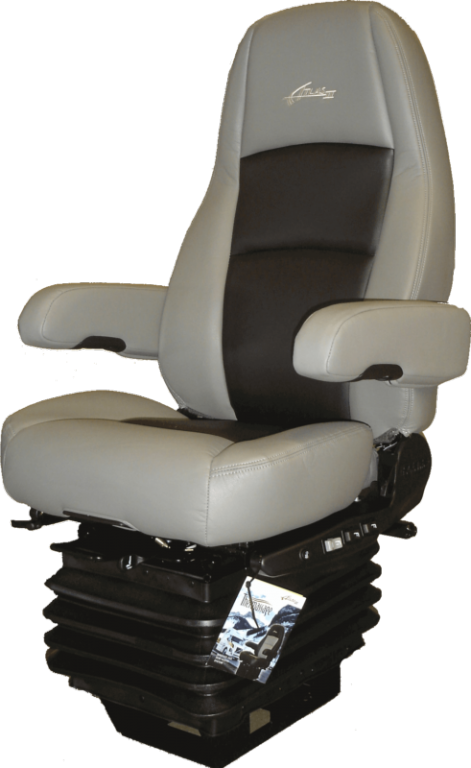 Credit: Sears Seating
Sears Seating is a well-known company that produces high-quality seats for heavy-duty commercial trucks. The Sears Seating Atlas II DLX design is for class 8 trucks.
This seat keeps the natural shape of the spine. An adjustable headrest and high back help with neck stiffness and tiredness. This durability, and adjustable lumbar support, make this one of the best seats for semi-truck drivers.
If you're looking for heating, cooling, or massage options, this seat may be the one for you. The optimal heat and massage cushions will help improve circulation and keep your back healthy for many future trips.
Pros
Designed for class 8 truck driving jobs.
Keeps the natural shape of the spine.
Has an adjustable headrest and good lumbar support.
Optional heating, cooling, and massage functions.
Cons
Armrests are an optional feature for an additional cost.
Final Thoughts
Finding the best seat for your truck driving job is essential for a comfortable ride.
Hopefully, these seat options serve you well! There are many great features and add-ons to look out for. Think about what makes a journey comfortable for you, and make a purchase that will benefit you in the long run!
Having a great seat can make all the difference in focus and comfort. If you're unsure how to finance your semi-truck, consider Mission Financial Services for top-tier quality. You can read more about the quality of service offered in this article on commercial truck financing reviews.