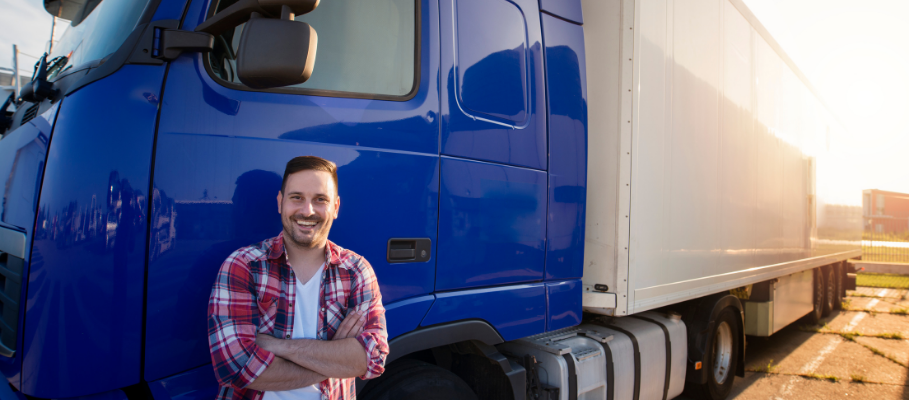 Take a moment and think, what is one industry that has been behind the success of every other business in the world? That's right, the trucking industry.
There's no denying that the profession of trucking has and continues to be one of the largest contributors to the American economy. Without it, millions of hardworking individuals would be without a job, and other businesses, like Amazon and Walmart, would collapse due to limited resources and the inability to ship. Different vital industries like construction, oil and gas, and automotive would also suffer greatly without trucking. And without the success of these enterprises, America's economic infrastructure would ultimately give way.
-> What Would Our World Be Like Without Truck Drivers?
So you see, truck drivers indeed are the backbone of our society, the oil that keeps the machine running smoothly, if you will. Fortunately, the essential occupation doesn't seem to be going anywhere, making it one of the most secure jobs in the world. The only thing left to do is pick the type of driver you would like to be. No pressure.
What are the Different Types of Truck Drivers?
Built differently than traditional tractor-trailers, flatbed trucks typically require additional training or education to execute safe and effective operations. On top of that, their drivers must thoroughly understand what they will be hauling and how to secure it properly since flatbed loads must be secured differently from tractor-trailer cargo. Typical freight includes vehicles, military vehicles, oversized freight, and oddly shaped cargo that doesn't fit well on other truck types. Fortunately, since flatbed trucking is more demanding, it typically offers higher pay than different driving positions.
Dry van trucking is an excellent position for those entering the occupation with minimal experience. These drivers are typically responsible for single trailer rigs that contain items like non-perishables and dry goods. A bonus for this title is that drivers are often not accountable for unloading upon arrival.
-> Buying vs. Leasing a Semi-Truck: An Owner Operator's Guide
If dry goods aren't your thing, you may be interested in becoming a tanker. Tankers primarily transport a variety of liquids, including gasoline, chemicals, and even milk. However, there are times that tankers will also be responsible for hauling dry products like cement or sugar. But in some cases, these drivers could also be dealing with highly explosive chemicals and gases. Since moving this delicate cargo can be, in some ways, dangerous, special training is required before starting this job.
Otherwise known as commercial truckers, freight haulers specialize in moving cargo that does not fit into a specified category like reefers and tankers. These drivers need to be flexible and good with change.
-> Post-Pandemic Era for the Freight Industry?
Refrigerated freight truckers have a pretty strenuous position. They are responsible for hauling loads that need to be kept at specific temperatures, like food, meats, highly perishable goods, medical products, and body products. That all being said, it's crucial that reefer drivers know how to regulate the trucks' temperatures, monitor for fluctuations, and adequately store freight for best refrigeration and temperature stability. Like flatbed drivers, reefers are often paid more than other types of drivers due to the amount of responsibility they are charged with.
Local, regional, and OTR drivers are labeled or defined by the mileage they acquire. While local drivers only haul within a city, regional drivers often move freight throughout an entire state or metropolitan area. For OTR drivers, they have the potential to be given routes across the United States.
-> Why Owner/Operators Should Run Hard This Holiday Season
Auto haulers, are given special trailers that can hold an abundance of various automobiles. Where they are taking these automobiles varies. Drivers may be transporting from auctions, local vehicle lots, or ports; you name it. With tens of thousands of dollars on the line, you better believe this job comes with a more than fair wage.
The typical hazardous materials driver will haul fuel, compressed gas, chemicals, waste, and other flammable/combustible materials. It's crucial for drivers to be knowledgeable about the contents they're hauling and how to handle them safely in the event of an emergency. To ensure everyone's safety, special training, certifications, and/or permits will be required.
-> 5 Things Owner/Operators Should Do to Achieve Success
LTL, or Less Than Truckload, drivers move smaller freight and don't need to go as far as standard shipments. With their cargo being on the smaller side, they will typically have multiple stops to make in one day and are generally responsible for unloading their own freight.
The trailers that sit close to the pavement and the truckers who drive them are low boys. These rigs sit lower to accommodate taller equipment or cargo and provide stability with a lower center of gravity. In most cases, these trailers are hauling overly large freight, like manufactured homes, construction equipment, etc. However, these low boys don't fly solo. They often are escorted by vehicles with flashing lights and signs that read something like 'Caution' or 'Oversized Load.'
Which Type of Truck Driver Should I Choose? 
It's clear that trucking is not only a high-demand profession, but it is a career that offers flexibility, the opportunity to travel, and the chance to meet and develop camaraderie with fellow drivers. Regardless of your age, gender, or educational background, your chances of achieving success are just as probable as the next. Best of all, the variety of job titles allows you to choose an occupation that best suits your life.
Before deciding, you'll want to consider personal factors such as your location, risk tolerance, situation, and experience. For example, if you're new to the industry, you won't want to dive headfirst into something like transporting hazardous materials.  There is a great likelihood that you will hold multiple positions with various skill requirements throughout your career. So, use this list as a guide to discover where to start or where to go next. 
Want to know how much truck drivers make? Download our infographic!