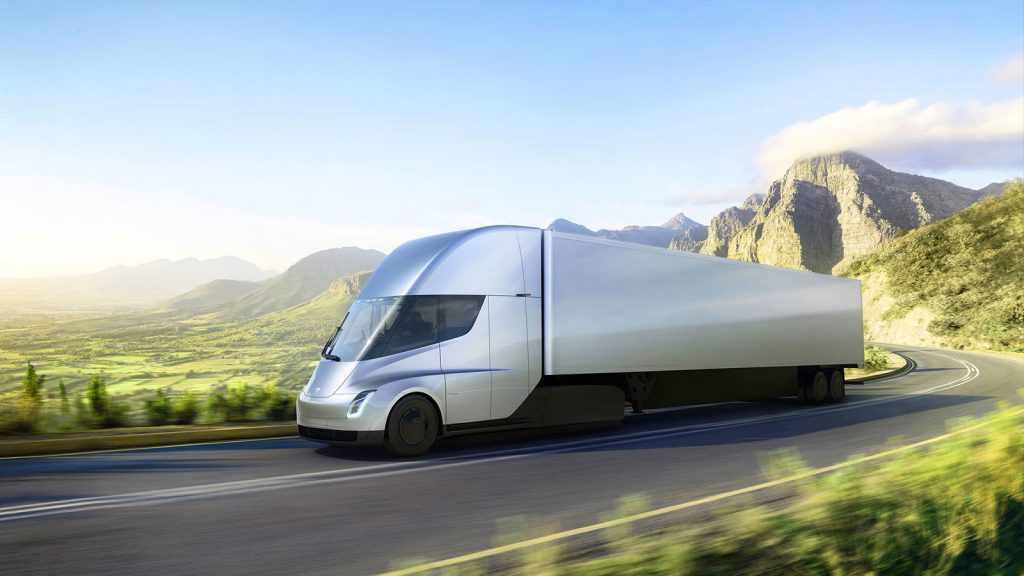 Image Credit: Tesla
In the wake of the popularization of electric cars, scooters and bikes, sustainability is one of the most controversial buzzwords in the transportation industry. Reducing air pollution and fuel consumption is a worldwide obsession and the biggest names in the automobile industry are playing right along. Developers are consistently expounding on ideals of efficient trucking, but the practicality of such is up for substantial debate.
Semi-trucks are one of the only remaining transportation systems that hadn't been seduced by the glamour of electric and increasingly sustainable fuel sources, until now. Diesel big rigs have been running the game for far too long and now is finally the time for more environmentally-friendly options. Get ready, because the trucking industry is going green at a stunningly fast rate.
Tesla's Electric Semi-Truck is Here
Electric-operated semi-trucks are emerging more than ever. Modern intelligence mogul Elon Musk recently announced a new option for truckers worldwide who were looking to lower fuel costs, reduce emissions, and achieve maximum efficiency in their resource usage. From the popular yet controversial brand Tesla, the new semi-truck option has the entire trucking community buzzing.
Simply called the "Tesla Semi," the new truck has sparked provocative discussions about the practicality of the green movement for the entire trucking industry. Musk asserts that not only is this option better for the environment and pollution levels, it's beneficial for the truckers themselves. In a mockup, he compares the acceleration efficiency of his Semi to a traditional diesel truck. The new Tesla truck supposedly can go from 0-60 miles per hour in a mere 20 seconds, an acceleration rate which would greatly increase on-road efficiency and traffic flow for truckers.
On top of the mechanical superiorities, Tesla claims that this new innovation will help to save costs with an estimated $200,000 in fuel savings. While this number may seem appealing initially, it's estimated for over a span of two years and might not outweigh the additional costs that come along with such a high-tech purchase. With an expected base of $180,000, it's no mystery why many truckers are skeptical of the payoff. While an electric truck may save in fuel, such a high cost upfront isn't realistic for most truckers, leaving them still searching for more financially realistic diesel alternatives.
Fuel Cell Alternatives
A slightly less costly way to achieve an alternative power source for the trucking industry is through hydrogen-fuel cell powered vehicles. Hydrogen fuel cells create energy without burning the same polluting outputs as conventional diesel. Combining Hydrogen and Oxygen creates a power source that has been found to be remarkably efficient for transportation.
Toyota, a more traditionally obtainable brand is releasing its first truck powered by hydrogen fuel cells in the last quarter of this calendar year. They partnered with Kenworth Trucking Co. for their mutual goal. They seek to reduce emissions at major U.S. ports that were experiencing especially bad air pollution from the high trucking traffic that took place there. The truck is fitted with two fuel cells that have been determined to provide substantial power for the alternative semi-trucks.
Toyota and Kenworth both assert that this move was motivated by environmental awareness, but it coincidentally is a politically popular move. They are seeking to eliminate air pollution caused by heavy trucking routes and develop more sustainable practices to propel trucking into the future of fuel technology.
This truck is suspected to be slightly more affordable upfront, since the funding for the research and production of these vehicles was partially funded by government initiatives that sought to reduce large masses of harmful emissions, which pose a threat to public health. Public funding will most likely lower final costs to consumers as those expenses aren't factored into base costs.
Electric vs Hydrogen Fuel Cell Power
Both hydrogen-fuel cell powered trucks and full-electric trucks have their individual benefits in respect to efficiency and reductions in emissions, but it's hard to definitively say which is the superior choice for a trucker seeking zero-emissions options. The final decision will depend on the individual needs of each route.
Additional factors such as charging/fueling opportunities and availability can sway the practicality option of these developments drastically. Developing charging stations and fueling ports for hydrogen cells will require substantial updates to major highways and interstate peel-offs in order to accommodate the long, often expansive routes of cargo delivery drivers. If this trend flourishes, alternative fueling stations will need to massively grow in abundance to accommodate the nature of the industry itself.
The trucking industry contains infinite intricacies that can often be complex and unpredictable, so it's immensely important to properly educate yourself before exploring any type of alternate semi-truck options. Even if you're not ready to commit to the investment of alternatively powered semi-trucks, there are lots of ways fleet owners can conserve fuel and help reduce emissions. Check out other helpful tips and keep up with the latest industry news with Mission Financial.