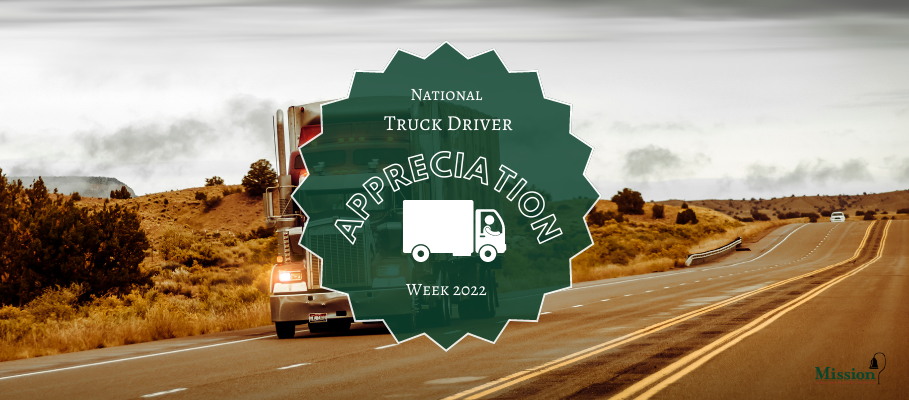 Truck drivers have been essential to our nation since the end of the 19th Century. They work tirelessly to transport approximately 10 billion tons of freight every year safely, securely, and on time while also keeping our roads safe. We depend on these unsung heroes to fuel our economy, for without professional truck drivers, our tables, closets, and stores would be empty.
Every year, we take an entire week to pay respect to and thank the country's 3.6 million truck drivers for their hard work and dedication to one of our nation's most demanding jobs. We call this week: National Truck Driver Appreciation Week.
America observes National Truck Driver Appreciation Week during the second whole week in September. This year's National Truck Driver Appreciation Week is from September 11th to the 17th, and we've compiled the top eight ways to celebrate.
8 Ways to Celebrate National Truck Driver Appreciation Week
1. Take advantage of parts and service deals.
Many companies are offering access to exclusive discounts, including Convoy, through their National Account at Goodyear. You can receive discounts on new tires, retread services, 24/7 roadside assistance, and more. Other companies, including Love's Travel Stops and Pilot Flying J, will also offer promotional deals during National Truck Driver Appreciation Week.
2. Host giveaways all week long.
If you're a fleet owner and operator, you can celebrate your drivers by hosting daily giveaways for items like iPhones, CB radios, or other things that drivers could find helpful. Daily drawings will keep everyone excited throughout the week. But to build more enthusiasm, why not raffle off a grand prize at the end of the week? A special grand prize could be a weekend getaway for two or a high-value tech item! Now's the time to be creative (and generous).
3. Give a thoughtful gift.
Are you a family or friend celebrating your favorite truck driver? Do so by giving them a thoughtful gift.
Top-notch gifts for truck drivers include:
A new truck mattress
A Sirius XM subscription
Audiobooks or an Audible account
A Bluetooth headset
A 12V cooler
Their very own merch (shirts, hats, cups, etc.)
Browse other thoughtful gift ideas here.
4. Treat yourself to some lunch.
Some favorite food spots offer discounts to truck drivers on National Truck Driver Appreciation Week, including:
Denny's – Truck drivers can receive a 10% discount key tag that is good to use at any Denny's travel center location.
Love's Travel Stops – Drivers can get a free Hot to Go sandwich or a Fresh to Go salad with an oil change purchase at any Speedco or Love's Truck Care. Love's will also offer daily specials on fresh food, snacks, and drinks.
Pilot Flying J – Freight haulers can get daily discounts on food and drinks, like a free drink on Mondays, Wednesdays, and Fridays.
5. Host a family and friends event.
Truck drivers spend long hours (sometimes even days) on the road and away from those they love. If you're a fleet owner-operator, you could celebrate your drivers by throwing a family and friends event. This event could be as simple as a backyard barbeque or as fancy as a catered, sit-down dinner. You can incorporate raffle prizes, games, and other festivities into your event or hire vendors like traveling photo booths or local entertainers, giving everyone a chance to mingle and let loose. An appreciation event could also strengthen your relationship with your employees and their loved ones.
If schedules can't align for an appreciation event, reward your drivers with experience vouchers they can share with their families, such as movie tickets, concerts, sporting events, etc. A gift certificate to a local restaurant would also make a perfect gift to show your appreciation.
6. Write a thank you letter.
Nothing says "I appreciate all you do" like a handwritten thank you card to your favorite driver. Whether you're an owner-operator, a family member, a friend, or even a fellow driver, a simple card expressing gratitude and admiration goes a long way.
7. Give your favorite driver a radio shout out.
What could be cooler than telling your favorite truck driver how you feel? Maybe their favorite radio host giving them a personalized shoutout! Call one (or all) of your dearest driver's favorite radio stations and request to give a shoutout. This could make a driver's week or maybe their entire year.
8. Go beyond the week.
Above all else, the best way to show appreciation for truck drivers is to show your appreciation all year round. And using any of the options listed above are great ways to do just that. After all, I think we can all agree that our nation's truck drivers deserve more than just a week of special treatment.
More Like This
→ How to Retain Your Top Drivers During a Shortage
→ Where is the Best Place to Work as a Truck Driver?