What Factors are Most Important to Younger Drivers?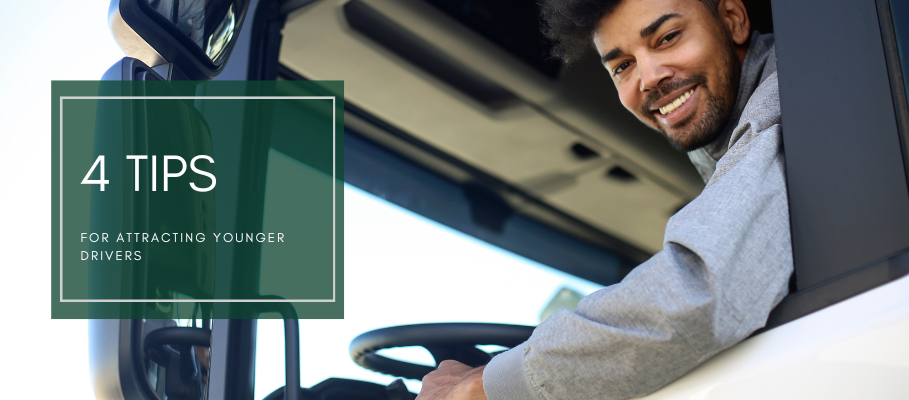 In the last few years, the trucking industry has seen a tremendous shortage of drivers. For instance, in 2018, approximately 60,800 drivers left the industry for good. This year, about 84,000 drivers have exited their careers; if trends continue, we can expect fleets to be short 160,000 drivers by 2030. The question on everyone's mind is: "Why does the truck driving shortage even exist?"
And while there are a number of reasons, many believe the shortage is caused by high turnover rates, dwindling compensation, and the aging of the workforce. The good news is that there may be a way to combat the ever-increasing shortage of drivers, and it starts with the next generation.
Currently, young people searching for a career don't see truck driving as a viable path, and if fleets do not work to change this mindset, the shortage will only worsen.
But, how exactly are you supposed to appeal to younger drivers? The answers may not be what you expect.
Why are younger drivers so important to the industry?
In 2020, people learned the trucking industry's true value and felt its impact on our country's infrastructure. Now, as the driver shortage wages on, more and more truck drivers are retiring, but they aren't being replaced at an acceptable rate. And when they are being replaced, it's not by younger drivers. However, if we want to see the industry recover and the economy thrive, younger drivers may be the answer.
Millennials are now the nation's largest generation, making up more than a third of the country's domestic workforce. And now, they are searching for a promising career path with good pay and benefits. They may not realize that truck driving offers that and so much more. But what if we told you that fleets could also benefit from hiring younger drivers?
Hiring younger drivers will help fleets stabilize as the tide of retirement accelerates within the industry. Younger drivers will also help trucking companies slow down turnover and keep up with the high demand for shipped goods. But, to hire these drivers, fleets must first appeal to them.
How can fleets motivate younger drivers?
Many think the only way to recruit young drivers is by offering a competitive wage. However, there are more critical factors that young drivers consider before jumping into a career. In fact, the American Transportation Research Institute (ATRI) found that only 40% of drivers (ages 21 to 30) consider pay to be the main factor when joining a fleet. In comparison, 60% believe other factors hold equal or even more importance in their decision. These factors include career stability, work-life balance, career benefits, and company culture.
So, as long as your trucking company can offer a positive working environment and decent benefits, finding younger drivers won't be as hard as one might expect.
4 tips for attracting younger drivers
Other ways to attract younger drivers include:
1. Embracing social media.
It's an age-old truth: to reach your target audience, you must go where they go. And if you are trying to reach a younger audience, you must use social media. Research shows that 86% of people (ages 18 to 29) use social media, and 88% are on Facebook.
A great way to reach younger drivers is through social media campaigns on platforms like Facebook and Instagram. These platforms have consistently ranked highly as a thriving source for driver leads. Using social media and reaching out to your local driving schools is a great way to bring young drivers into the industry.
2. Updating your promotional materials.
ATRI found that young drivers are more likely to apply for a job with a carrier if there is more initial information and transparency. An example would be creating a job posting with explicit expectations and requirements. Your company could even benefit from posting videos and other content that help convey what a day in the life of a truck driver is all about. Almost 25% of younger drivers believe that fleets should incorporate younger adults in their non-recruitment advertisements and company materials.
3. Modernizing your benefits.
According to the CDC, truck drivers are twice as likely to suffer from job-related health issues, like obesity, high blood pressure, and problems that come with a lack of sleep. And in today's society, health is taking priority in younger people's lives. Simply updating your wellness benefits could be the difference between a young driver accepting a job offer and declining it.
We suggest:
Starting a company-wide wellness program or paying for a wellness app subscription
Introducing incentives for incorporating healthy habits
Giving discounts on health insurance premiums
Offering more PTO and bonus opportunities
Supporting your drivers' wellness in any way you can
4. Offering consistent scheduling.
Truck driving is known for putting a strain on drivers and their work-life balance, thanks to long hours, last-minute changes, and erratic scheduling. Offering more predictable off days and consistent scheduling could attract younger drivers to your company.
More Like This:
→ How to Retain Your Top Drivers During a Shortage
→ Why More Millennials Should Become Truck Drivers