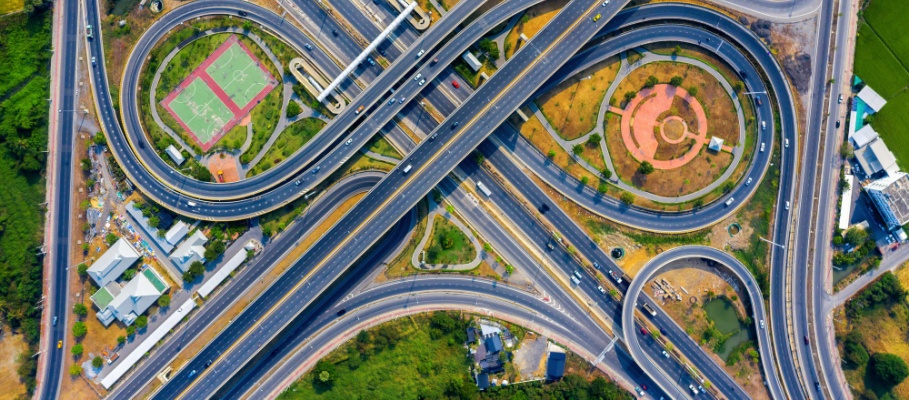 Throughout our country's history, transportation has fueled our development and economic growth and gotten us to where we are today. Every day, all across America, truck drivers travel across our country's roads, highways, and bridges to deliver goods and keep our nation running. Through modern technology, transportation experts can track the movement of products and determine metrics regarding driver's commute times and road and bridge quality. Once this data is measured, combined with ratings from drivers and government funding info, experts can determine which states have some of the best roads and highways in the country.
-> How to Keep Your Truck on the Road
For truck drivers, the quality of infrastructure is crucial. It plays an essential role in the longevity of the rig and the driver's safety, and damaged or unkempt roadways can lead to damaged products, accidents, unnecessary vehicle repairs, and more. States with little funding for infrastructure unfortunately suffer the most. However, in some states, drivers don't have to worry so much about the pavement they drive on.
Which states have the best roads and highways?
The top 10 states with the best roads and highways include:
#1. Kansas
Thanks to its recent funding increase and overall improvements, the great state of Kansas lands at the top of our list. Those fortunate enough to drive through the state agree that the streets are safe, clean, and perfectly resurfaced.
#2. Alabama
When the Rebuild Alabama Act was passed in 2019, the state worked to better its roads and highways. The roadways were widened and repaved after years of wear. Now, travelers have noticed improved traffic. And with less traffic comes more Southern hospitality.
#3. North Dakota
In North Dakota, the interstates are perfectly paved, the urban roads are cared for, and only 2% of the rural roads are considered to be in need of a facelift. For these reasons, plus their absolute cleanliness, it sits at the number three spot on our list!
#4. Kentucky
Approximately 86% of Kentucky's roadway budget goes towards road maintenance, meaning the highways are almost always in good condition. And like North Dakota, the state's urban roads are well kept, and only 2% of the rural roads could be considered poor. Besides that, drivers will experience clean roads and sound traffic systems that promptly help them get to where they're going.
#5. Florida
Coming in at number five is the sunshine state, Florida. The state's overall infrastructure rating is one of the country's best, with 71% of the urban roads and 88% of the rural roads in top-notch shape. The state has also implemented several new lanes, roundabouts, turning lanes, and four-way stops to assist traffic flow and safety. Plus, you never have to worry about driving in the snow. 
#6. Idaho
Across Idaho, the clean and orderly roads are well used by travelers and residents, but they are equally well maintained. Drivers commend the state's easy-to-understand north-south, east-west directions and the lack of potholes.
#7. New Hampshire
New Hampshire's roads and highways are in good condition, with 4% of rural roads and 10% of urban roads in the category of 'needs improvement.' Those who frequent the state's roadways describe them as well-maintained and easily navigable with good signage.
#8. Georgia
Georgia's various roads and highways are described as smooth, wide, and clean. Thanks to the current SPLOST tax credit, the state continues to make repairs and expand its roadways, only further improving traffic flow.
#9. Nevada
When it comes to quality infrastructure, Nevada isn't doing too bad. Approximately 8% of the urban roads need improvement, but 100% of the rural roads surveyed are in good condition. Older streets are constantly refreshed and kept smooth as the state continues to expand.
#10. Vermont
At our 10th spot is the scenic state of Vermont. While there are definite areas in need of improvement, the state's roadways are safe and in good condition. However, many drivers agree that the state could upgrade its traffic standards.
How to get started as an owner operator
So, when it comes to choosing where you want to drive (assuming you have the choice), we recommend you start with one of these 10 states. You and your semi-truck will thank you. If you're just getting started in the industry, check out one of our helpful resources below!
→ Buying vs. Leasing a Semi-Truck: An Owner Operator's Guide
→ 6 Tips for Starting Your Own Trucking Business