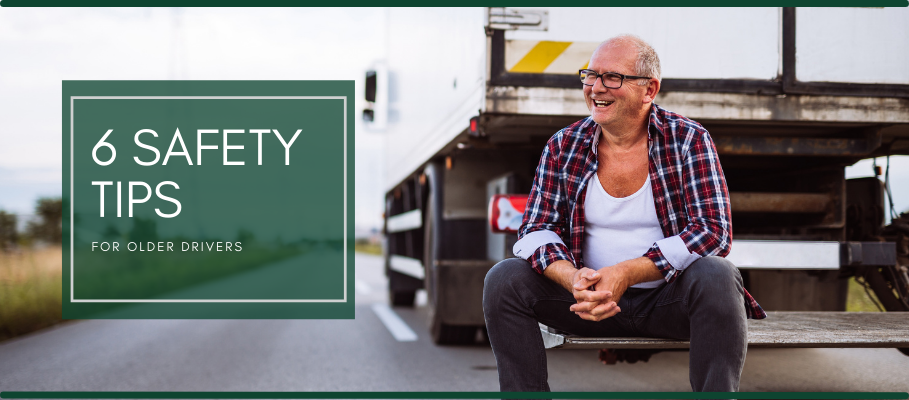 It's officially the first week of December, which means it's Older Driver Safety Awareness Week! This national celebration was initiated in 2009 by the American Occupational Therapy Association to start a conversation around older driver safety. According to the CDC, there are currently 45 million motorists over the age of 65. In one year alone, approximately 250,000 of those older drivers were involved in vehicular accidents that resulted in severe injuries, and another 7,700 tragically died in traffic accidents.
This week of awareness sheds light on those driving for personal reasons as well as our nation's truck drivers. When long hours on the road are combined with harsh winter weather or age-related medical conditions, heavy-duty hauling can be dangerous to you and those around you. For these reasons, it is vital to recognize when the risks of driving outweigh the benefits and to learn different ways to stay safe in the meantime.
6 Safety Tips for Older Drivers
Older drivers are not only twice as likely to suffer from medical conditions that impair their driving skills, but they are also at a higher risk of getting injured or even dying in a car accident. However, these numbers don't mean that those 65 and older have to fear getting behind the wheel; they just need to drive more cautiously, practice good judgment, and follow the CDC's tips for older driver safety.
These CDC safety tips include:
1. Obey all traffic laws. 
Follow speed limits and traffic signs, wear your seatbelt, and never drive under the influence. This is important for drivers of ALL ages.
2. Only drive under favorable conditions. 
If feasible, only operate your vehicle during the daytime and when the weather is decent.
3. Keep an open line of communication with your doctor. 
Discuss any medical concerns or issues with your healthcare provider and determine if they could have an adverse effect on your driving. In terms of medication, determine if any potential side effects, such as dizziness or drowsiness, could interfere with your driving.
4. Have your vision and hearing checked at least once a year.
If either is impaired, be sure to obtain the proper prescription for your eyewear or hearing aids. It is imperative that you wear your glasses at all times when operating your semi truck.
5. Plan your route in detail. 
Before hitting the road, make sure you know exactly where you are going, what alternative routes there are, and where rest stops are along the way. It is always a good idea to have an up-to-date map with you as well.
6. Adapt your truck to fit your needs. 
If allowed and/or feasible, add installable features or adaptive devices to your vehicle to help with proper vehicle maintenance.
By following these tips and regularly assessing your driving habits for any concerning shifts, you can continue driving safely and avoid at-fault accidents. However, if you notice any changes in your reflexes, vision, hearing, or physical or mental well-being, it's essential that you stop driving and talk with your doctor.
Click here to learn more about medical conditions that may affect your driving.
Observe Older Driver Safety Awareness Week
This week celebrates the role that transportation plays for older drivers and their communities. To celebrate Older Driver Safety Awareness Week, reach out to your favorite, experienced driver and start a dialogue about their safety and others. Drivers can observe this week by following the top six safety tips as recommended by the CDC.

Pro tip: Use the hashtag #OlderDriverSafetyAwarenessWeek when posting on social media this week!