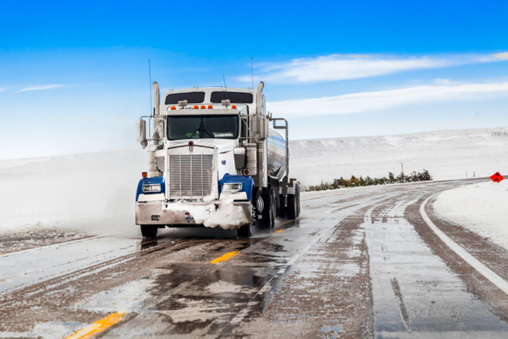 Working as a long-haul owner/operator is a difficult, dangerous career not meant for the faint of heart. Ever-changing road and weather conditions, unfamiliar locations, 70-hour workweeks, and almost total isolation—the modern owner/operator faces unparalleled challenges day in and day out. As the winter season creeps in, drivers have their work cut out for them as they deliver all of those unbelievable Black Friday deals and Santa's nice-list promises. With that in mind, it's imperative that owner/operators plan ahead for the harsh winter weather and prepare their trucks for what is sure to be one of the busiest holiday seasons to date.
Here are five tips for winterizing your semi-truck to stay safe and save money while on road:
1. Inspect Your Battery
Many people don't know this, but extreme weather can zap the charge from a vehicle's battery. According to Farm and Dairy, "Cold temperatures wreak havoc on batteries because they slow the chemical reaction inside of the battery. Though batteries can function under myriad conditions, the cold weather tends to degrade high-quality batteries and may render subpar batteries useless." The last thing an owner/operator needs is to wake up to a dead battery as their truck sits in a parking lot in the middle of nowhere, therefore losing valuable driving time and increasing expenses. Avoid battery problems by inspecting the battery connectors for corrosion, securing the mounts, and checking the electrical components. If the battery is over two years old, consider replacing the battery prior to peak season.
2. Install an Electric Block Heater
Diesel engines require significantly more heat to turn-over than their gasoline counterparts—the combustion range for gasoline is 700 to 1,000 degrees Fahrenheit while the range for diesel is 1,000 to 1,200. In cold enough temperatures, a diesel engine may struggle to turn-over, and during the most inclement winter weather, there may be no viable way for the engine to reach the necessary temperatures. This can be avoided by installing an electric block heater to keep the engine warm while the vehicle is off overnight, ensuring it rolls over on the first try regardless of the weather outside.
3. Check Your Tires
Ideally, drivers should inspect their tires religiously as tire blowouts account for roughly 6% of semi-truck accidents. The need to inspect tires increases with the colder weather as worn-out, damaged, or underinflated tires can struggle to gain traction in snow and ice, creating unsafe driving conditions. Additionally, owner/operators need to pack the correct size and number of tire chains in case their route takes them through a state where semi-trucks are required to use chains. Tire chains are an owner/operator's best friend when driving on icy terrain; they can make all the difference between reaching your destination safely or sliding into a ditch—or worse. Stay prepared and plan ahead.
4. Inspect Your Cooling System
A semi-truck's engine cooling system has to work overtime during the winter months. This is due to the fact that the harsh winter weather forces the engine itself to work significantly harder than in the warmer months. The cooling system should be thoroughly inspected and tested by a mechanic prior to the winter season to make sure no hoses are worn or damaged, hose clamps are tight and secure, and the radiator has no damage or leaks. If the cooling system fails, the entire engine will fail along with it, costing you precious dollars and quite possibly your deadline. The last thing an owner/operator wants is to be stranded on the side of the road with no fix other than replacing the cooling system completely.
5. Prepare an Emergency Kit
Sometimes, no matter how much you plan, or how much you prepare, you still run into the proverbial—or literal—bump in the road. If an owner/operator finds themselves stranded in harsh winter climates while in route to their destination, it can be incredibly dangerous without the necessary supplies to ensure your safety and survival. Always prepare an emergency kit to protect yourself from the weather or other threats you may face while on the road. We recommend including the following items in your emergency travel kit:
● Extra blankets
● First aid kit
● Flashlight and extra batteries
● Canned food and bottled water
● Gloves
● Scarves
● Hats
● Snow boots
● Snow shovel
● Flare and flare gun
● CB Radio
● Extra coolant, washer fluid, engine oil
● Extra fuel filter and fuel filter wrench
● Spare Diesel fuel
● Tire chains
These items will make sure you are safe, protected, and have extra supplies on-hand in case the problem can be easily solved—such as low oil levels or running out of fuel.