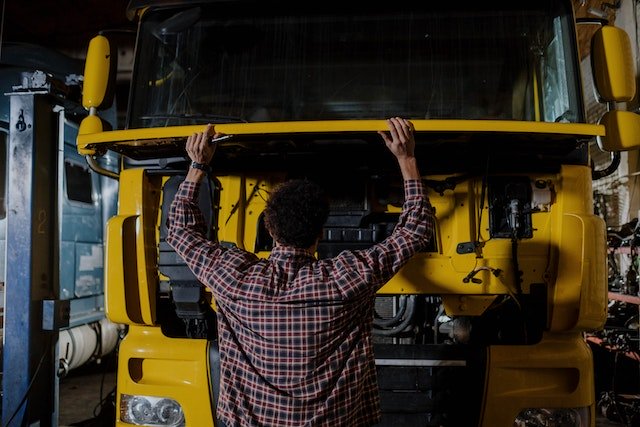 Do you know that the best semi-truck seat for bad back pain can lengthen your career as a long-distance truck driver?
Great seats can increase comfort, reduce fatigue, and help you focus on the road during long hauls. They can also prevent musculoskeletal pain (MSP), which affects nearly 81% of professional truck drivers. Back pain is the most commonly reported MSP.
There are several semi-truck seat options for avoiding or relieving back pain. Let's explore the best ones below. This way, you can find the perfect truck seat to protect your back and prolong your health.
Best Semi Truck Seat For Bad Back Pain
You cannot prevent or relieve back pain effectively without eliminating the causes. In this list, we considered brands that can deal with the causes of back pain.
We looked into brands that focused on these two factors:
Good posture: Poor posture behind the wheel is one of the top causes of chronic back pain in truckers. It's important to use a truck seat that provides extra support for different parts of your body. We considered seats with a unique shape that can provide proper lumbar and upper back support. We also looked at the firmness of the truck seat cushion.
Road-shock absorption: Another major cause of bad back pain in truck drivers is sudden, jolty movements due to road shocks and vibrations. These strain your spinal ligaments and back muscles, creating painful pressure points along your spine and the back of your leg. Most air-ride seats can dampen road shocks and vibrations effectively. They also adjust to your body weight. You'll experience a comfortable, smooth ride for the long hours you're on the road.
In addition to the above, you should consider the following when picking the best semi-truck seat for bad back pain:
Height: Ensure your seat can accommodate your size and fit into your truck perfectly.
Adaptability and upgrades: Find a seat with adjustable features and possible upgrades like adjustable armrests, ventilation systems, and so on.
Here are our top 6 top picks for semi-truck seats for bad back pain.
1. Knoedler Truck Seats (Air Chief)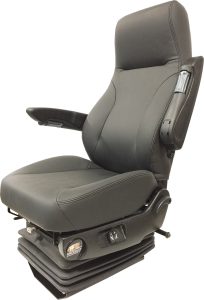 Credit: Knoedler
Knoedler Manufacturing is well-known in the trucking industry for its comfortable, U-shaped seats. Good examples include the Knoedler air chief, power chief, low rider, and extreme low rider seats. All of these seat series provide superior lumbar support. They can reduce muscle soreness and relieve lower back pain.
If we had to pick one, it would be the Knoedler air chief series. This is for maximum back comfort and safety when riding for long periods. This semi-truck seat features a contoured surface and back cushion to relieve tailbone and lumbar pain.
It has a slanting, U-shaped design in the middle to reduce pressure on the back of your legs. You can extend and tilt the seat cushion into different positions. This might be the best option if you've been struggling with herniated discs or chronic sciatica pain.
This seat also has an air-suspension system with a bar that moves to encourage proper seat belt use. The adjustable back recline system allows the seat to recline back. You can adjust the headrest to improve your posture at any time. This is crucial to help you maintain focus on the road.
All the optional upgrades that come with this seat make it one of the most luxurious semi-truck seats. The following upgrades stand out:
Memory foam upgrade.
23" wide cushion upgrade.
Massage system.
Heating and cooling in backrest and seat cushions.
2. National Commodore Seats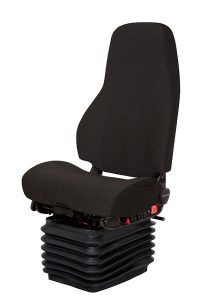 Credit: National
If you're looking for truck seats designed specifically for lower back pain relief, the National Commodore seats are a win.
They have advanced lumbar support technology, triple-chamber air lumbar support, and a back cycler system to help you minimize back pain and fatigue.
The back cycler system relieves muscle tension and ligament strains while improving blood circulation.
It also prevents spinal disc degeneration. Because of this, many truck drivers prefer the National Commodore seat as the long-term solution for avoiding back pain.
Truck drivers also appreciate this seat because of its inbuilt armrests, large back, and seat cushions.
Generally, the Commodore seat options are some of the best truck seats for reducing road shock and vibrations. Their isolating air suspension feature offers a smooth driving experience.
3. ISRI Truck Seats Series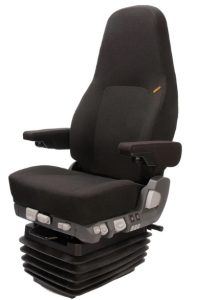 Credit: Suburban
ISRI has a range of truck seats with an ergonomic design to provide maximum back support. The best semi-truck seat for bad back pain within the series is the ISRI 5030/880.
You can choose between the ISRI 5030/880 premium and elite seat options. Both options have similar features, like the lower and upper lumbar support systems. These ensure proper back support during long hauls.
They also have high-density seat cushions with length adjustments for added comfort. Other notable features of the 5030/880 premium and elite semi-truck seats include:
Multi-position tilt.
Horizontal slides.
Air-suspended height adjustment.
These features make both options some of the best semi-truck seats for shorter drivers. However, if you're looking for a truck seat with a heating or ventilation system, settle for the ISRI elite option.
The elite option also has a map pocket, which most truck drivers welcome as added space. More space provides room to organize your truck, although you can always get a good seat organizer instead.
4. Bostrom Talladega T Series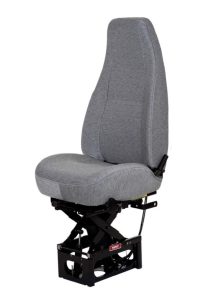 Credit: Bostrom
If you're looking to ease chronic back pain, you can never go wrong with the Bostrom T series. The seats have a flex support cushion system. These superior seat cushions can:
Reduce back compressions.
Prevent muscle stiffness.
Promote lumbar support.
The flex support system also ensures any movements you make don't interfere with the back support offered by the seat cushions.
This works well with the scissor action suspension feature, which provides even weight distribution to give you a stable driving experience.
Another Bostrom semi-truck seat worth mentioning is the latest Wide Ride+Serta truck seat.
It combines Bostrom's truck seat technology and Serta's gel memory foam to deliver maximum back support.
The gel memory foam cushion is a comfortable cushion that prevents muscle stiffness. It does this at a higher level than a standard or premium memory foam cushion. It eases sciatica and tailbone pain.
It also provides an unmatched cooling ability for proper heat transfer away from your body when needed.
This seat features two climate options. A seat heater and a water-resistant, heat ventilation, leather-only system ensure you remain comfortable. You can experience comfort even when riding under harsh weather conditions. Learn more tips for winterizing your semi-truck to ride safely during winter.
Wide Ride+Serta gives you several optional upgrades like long armrests and cushion tilts to personalize the seat further.
5. Sears Atlas DLX Semi-truck Seat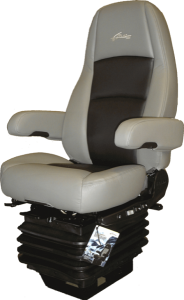 Credit: Sears Seating
The Sears Atlas II semi-truck seat considers the natural shape of your spine to protect your back.
This is an ergonomic 22-inch wide seat with a standard back and high back cushion to help you ride pain-free for long periods.
The seat has perfect contours and a U-shaped cushion for extra support and maximum comfort. Its toggle link air suspension feature makes it stand out as one of the best semi-truck seats for back pain.
This feature provides superior lateral stability to minimize side-to-side rocking. It's perfect for preventing and easing tailbone pain.
Sears Atlas II features quad-chamber air lumbar support and a seat cushion tilt or extension system to reduce sciatica pain.
If you want to upgrade this seat, consider getting a map pocket. You can also look at additional armrests or more cushion features. These include heating and massage options for enhanced relaxation.
6. Bose Ride Truck Seat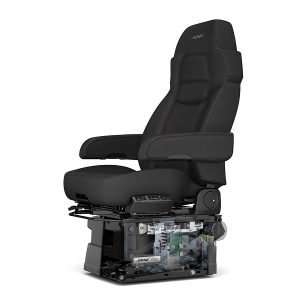 Credit: Bose
Bose Ride meets all the requirements for the best semi-truck seat for bad back pain. It has advanced technologies built into its suspension base to neutralize all road shocks and vibrations.
This technology senses, analyzes, and counteracts any bumps or jolts. So, you remain comfortable and pain-free throughout your ride.
The seat also has several adjustable features to promote proper posture and reduce fatigue. These include:
Individually controlled lumbar supports for the lower and upper lumbar region.
An adjustable back recline system that allows the seat to recline up to 26 degrees.
A three-position ride control selector.
Built-in armrests with height adjustment controls.
This seat cushion is high-density, U-shaped, and 22 inches wide. The cushion features allow Bose Ride to accommodate truck drivers of different builds and body sizes.
You can adjust the cushion to your preferred height and tilt angle for increased comfort and focus when riding for long hours.
Bose Ride is your answer if you're looking for faster recovery from pain, as well as maximum comfort and safety.
Final Thoughts
Getting the best semi-truck seat for bad back pain is a great investment for any truck driver. It improves your health, helps you put in more miles, and lets you enjoy your career. With the options above, choosing the best seat to meet your needs shouldn't be a hassle!
You may also want a good seat cushion, with an ergonomic wedge shape, to go with the seat you choose. Our article on the best semi-truck seat cushions can help you find the perfect cushion for any new seat!