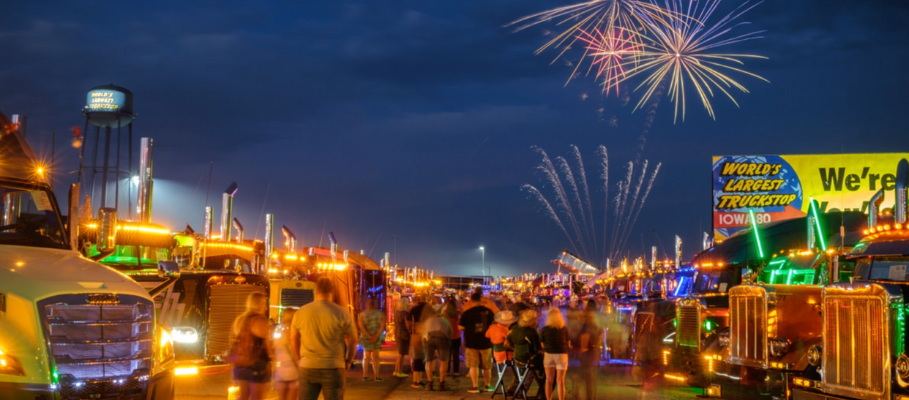 An Interview with Charles Smith, Mission Financial
Iowa 80 Truckstop, The World's Largest Truckstop, recently celebrated America's truck drivers at the 43rd Walcott Truckers Jamboree. Approximately 45,053 drivers attended the event, along with their beloved friends and families, members of the local community, and visitors from over 27 different states and two Canadian provinces.
The Walcott Truckers Jamboree has been a yearly celebration, rain or shine, since 1979. The three-day extravaganza offers tons of features, including over 175 exhibits, an antique truck display, Iowa-style cookouts, the Trucker Olympics, contests, live concerts, an epic firework show, and so much more. And attendees didn't have to worry about admission or parking for the event, because both were FREE!
The most popular feature of the Jamboree was the Super Truck Beauty Contest. This year featured 92 registered contestants, and the winners were something to admire. Ranging from turn-of-the-century trucks to modern marvels, there was something for everyone to appreciate.
This year, Mission Financial Services' very own Charles Smith had the opportunity to attend the Walcott Truckers Jamboree.
"This was my first year attending, and while I didn't participate in any of the exhibits or events, I was able to explore potential prospects for the future," Charles said when asked about his time at the trucker's event.
Charles also noted that there weren't any other financial companies in attendance, which presents a huge opportunity for the commercial lender. "Mission Financial will definitely be attending the 2023 Walcott Trucker Jamboree. I encourage people to stop by our booth next year so they can take advantage of the industry knowledge and financial offers we specialize in everyday," he said.
The 2023 Walcott Trucker Jamboree is scheduled for July 13-15, 2023. Click here to see the schedule of events.
Stay tuned for more information about the Mission Financial booth and the 2023 Walcott Trucker Jamboree!
More Like This