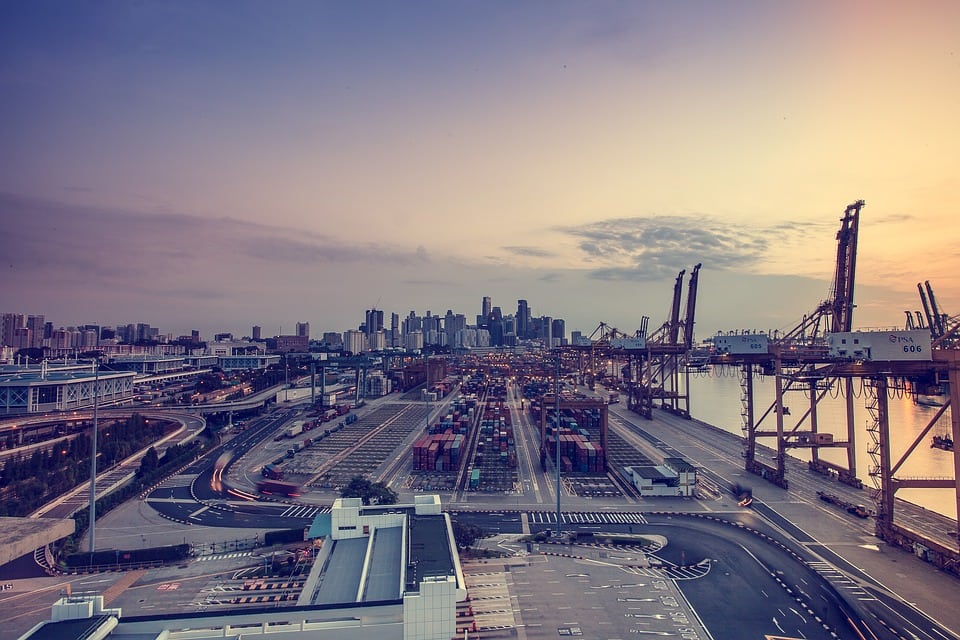 So, what is the Cass Freight Index, and how does it affect the daily lives of commercial truck drivers and owner-operators every day? Most people haven't heard of the Cass Freight Index, but it's actually directly relevant to the everyday lives of truck drivers across the United States. The Cass Freight Index reports how much cargo is being shipped and transported in all categories of commercial transportation like trucking, railway, and air. As a truck driver, the volume of shipments occurring across the United States every month and year directly affects your finances in the commercial vehicle industry.
What is the Trade War?
To understand how a trade war could affect the trucking industry, you first have to know what a trade war means. A trade war is a when two countries impose trade restrictions and taxes on goods from the other, and the escalation infringes on international trade volume. This is especially relevant today, as we enter a potential trade war with China. Although many people are worried about how the trade war will affect the U.S. economy, it's actually possible that the United States will "win" while China ultimately suffers. The Chinese economy and growth rate are slowing. For example, in the last three months, U.S. equities have increased by 7.1% next to China's nearly 10% fall. This could mean good news for American truck drivers looking to stay busy and paid.
In early March of this year, President Trump imposed a 25% tariff on steel imports and a 10% tariff on aluminum, both targeted at China. The U.S. economy and Chinese economy are two of the largest economies in the world, and stock markets across the world have already suffered in anticipation of a trade war with the EU. But the United States economy is in an upswing, and positioned to not only survive the trade war but thrive. So what does this mean for the men and women transporting cargo every day on the ground?
What Does the Cass Freight Index Tell Us Today?
According to the Cass Freight Index from May 2018, the U.S. freight economy is very strong in the face of a burgeoning trade war. In fact, according to Freight Waves, freight volume is higher than it has been in a decade. At its lowest during the great recession of 2009, the Cass Freight Index sank to .85, compared to 1.31 in 2018. The chart pictured here is from SONAR, a tool that helps analysts gather data to get a picture of the freight market. According to May's Cass Freight Index report, the first five months of 2018 have excelled even beyond 2014—another very strong year in recent history for freight volume. According to the report, demand is rapidly expanding.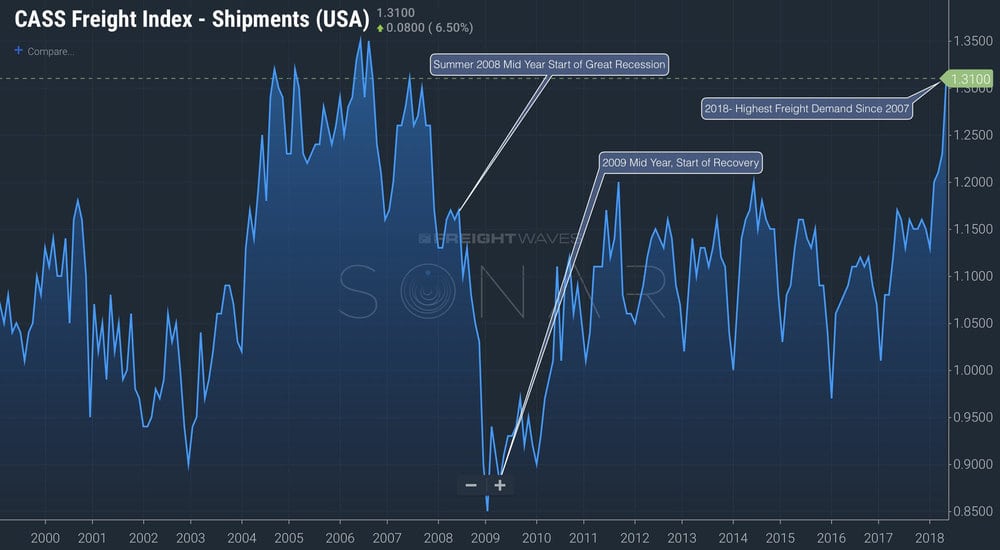 The U.S. economy's strength is also likely to accelerate, usually indicated by transportation. Because these kinds of percentage increases are no longer immediately following a recession (instead they are weighed against already strong statistics), this is a uniquely positive sign for the economy. The largest 25 trucking companies also collectively rose their combined revenue by 5.4% in 2017. Although this percentage sounds small, it actually equates to billions of dollars.
The June Cass Freight Index has also continued to rise, and at increased acceleration. It's rising—and rising faster than before. According to the June Index, June was the 21st consecutive month of increases, and brings the three-month moving average up to 8.8%. These companies are growing: the number of companies with 500 million to 1 billion dollars in revenue rose compar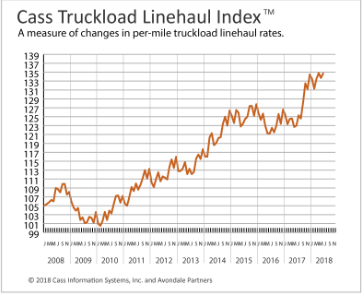 ed to previous years (there are now five). This is good news for those considering a career in commercial transportation. Whether you'd like to become an owner-operator or work for a trucking company, the demand for drivers is rising even higher.
Improvements in the U.S. economy like this are usually a great sign for truck drivers on the road every day. If consumer demand is up, it means that people are buying more goods which means more cargo to ship and transport. Carriers will be looking to put out more goods, and truck drivers gain more work trying to meet those needs. Advancements in consumer demand as well as technology have directly influenced the trucking industry simultaneously, according to Fleet Owner. For example, Amazon's nationwide (and worldwide) shipment centers are now strategically placed in towns and cities to enable same day or next day delivery for people everywhere. The demand for Amazon deliveries is very high, and these deliveries are exceptionally time sensitive. In general, the practice of online shopping in the United States has skyrocketed, and many Americans shop online exclusively or primarily. This too creates higher demand for shipping. This means more demand for commercial vehicles and cargo transport in more cities and towns. However, the severe traffic congestion in major metropolitan cities is still a major concern for the commercial trucking industry because that time and fuel spent in traffic is expensive.
Because there is still a shortage of drivers in the commercial transportation industry and the trucking industry overall, this boom should provide an opportunity for truck drivers to thrive in the industry. Companies even offer bonuses contingent on performance on the road (safety, efficiency, productivity) as well as bonuses for signing up or referring someone. These incentives are a good opportunity to ensure some initial financial stability if you're a new driver or considering getting your CDL and financing your commercial vehicle. However, these incentives have so far not improved the shortage of truck drivers in the United States.
Where to Start
The Cass Freight Index is a useful tool to determine the current state of the U.S. economy in terms of shipping volume and demand. As the economy continues to look optimistic, many Americans might consider their options in a field like commercial transport. Some potential drivers may be discouraged by the expense of financing a commercial vehicle to become an owner-operator. If you have debt, child support trouble, or credit problems, you might think that you don't qualify for a commercial vehicle loan. This isn't actually true—there are many lenders that are flexible to poor credit. Financing a loan can be a quick, easy process if you find the right lender for your needs. To learn more about direct lending or financing a loan through your dealership, visit https://www.missionfinancialservices.net to learn about the services available in your area.