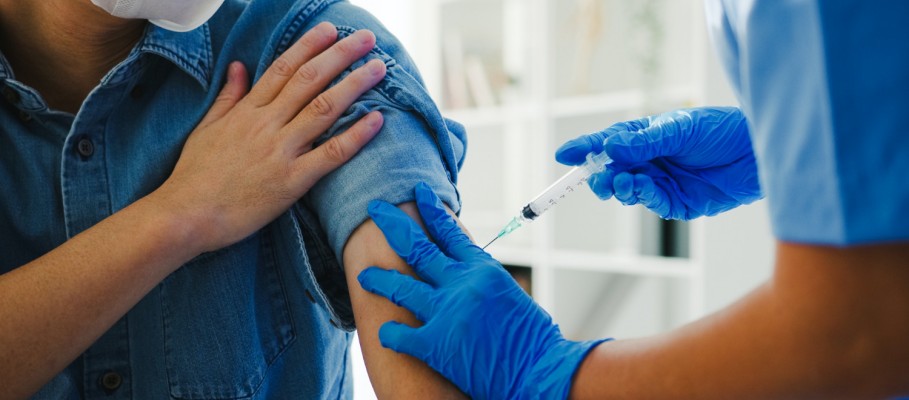 On November 4, the Department of Labor's Occupational Safety and Health Administration announced that employers with 100 or more employees must either ensure the complete vaccination of their staff, or obtain negative COVID-19 test results weekly. This ETS (Emergency Temporary Standard) requires full vaccination for all employees and paid time off for those needing to get vaccinated during their workday. And while the vaccination mandate goes for all covered employers, it does offer the exception for those willing to establish and enforce weekly COVID-19 testing along with mandatory face coverings while at the workplace. However, this alternative still upset those working in the trucking industry and the supply chains, which are currently fragile, leading to several legal challenges.
So, what does this ETS mean for drivers and others in the trucking industry moving forward?
How does the vaccine mandate affect businesses?
When the Biden Administration announced their latest vaccine and testing requirements, many private businesses, including travel-dependent industries, were left worried about the effect the mandates could have on their businesses. Specifically for the trucking industry, many drivers threatened walkouts and resignations to disrupt further the strained supply chains that have been suffering since early this year. However, as previously mentioned, there are a few exceptions to the requirements.
The current ETS regarding COVID-19 requirements for workplaces with over 100 employees include:
Businesses must ensure total vaccination for all employees come January 4, 2022.
Employers must provide paid time off to their employees obtaining the COVID-19 vaccine(s).
On January 5, 2022, all unvaccinated employees must wear proper face coverings while at their place of work, as well as provide weekly COVID-19 tests with negative results.
These rulings will supersede any and all state or local laws, including "laws that ban or limit an employer's authority to require vaccination, masks, or testing."
Who is exempt from the vaccine mandate?
With the trucking industry facing a severe driver shortage of approximately 80,000 drivers, White House and OSHA officials knew they would need to offer some exceptions. With hopes to avoid further driver depletion and supply chain disruption, which is responsible for things like food, fuel, medicine, and even the COVID-19 vaccine, they developed a shortlist of exemptions.
These exemptions include:
Workers who do not report to a workplace where other people, including employees, clients, and/or patrons, are present.
Those who do not interact with persons at their point of departure or destinations.
Workers who operate alone (aka drivers who are alone in their cabs)
Remote employees
Exclusively outdoor workers
To the American Trucking Association's delight, these exemptions apply to a large portion of the commercial truck driver population and provide a sense of security to the industry as a whole. Overall, the mandate would only apply to drivers operating in teams or those required to interact with others at their loading or unloading stations.
What about international and cross-border truckers?
For drivers who cross borders to deliver goods, the mandate requirements are different. As of right now, both the U.S. and Canadian governments are requiring non-citizens to be fully vaccinated, regardless of their reasons for entry. And come January of 2022, the Department of Homeland Security will require all foreign travelers coming into the country to provide proof of total vaccination, an extension to the non-essential traveler requirement, which started in November of 2021. To meet this requirement, one must be fully vaccinated with any vaccine, including Pfizer, Moderna, Janssen/Johnson & Johnson, AstraZeneca, Covaxin, Covishield, Sinopharm, or Sinovac. However, if the vaccine requires two doses, the last dose must be administered within 14 days before entry.
Want more information like this? Check out these articles:
→ Are Truckers Included in the Third Vaccination Group?
→ How Truckers Can Prepare for the Holiday Season Amid COVID-19
→ How the Supply Chain Problem Will Affect the Holiday Season