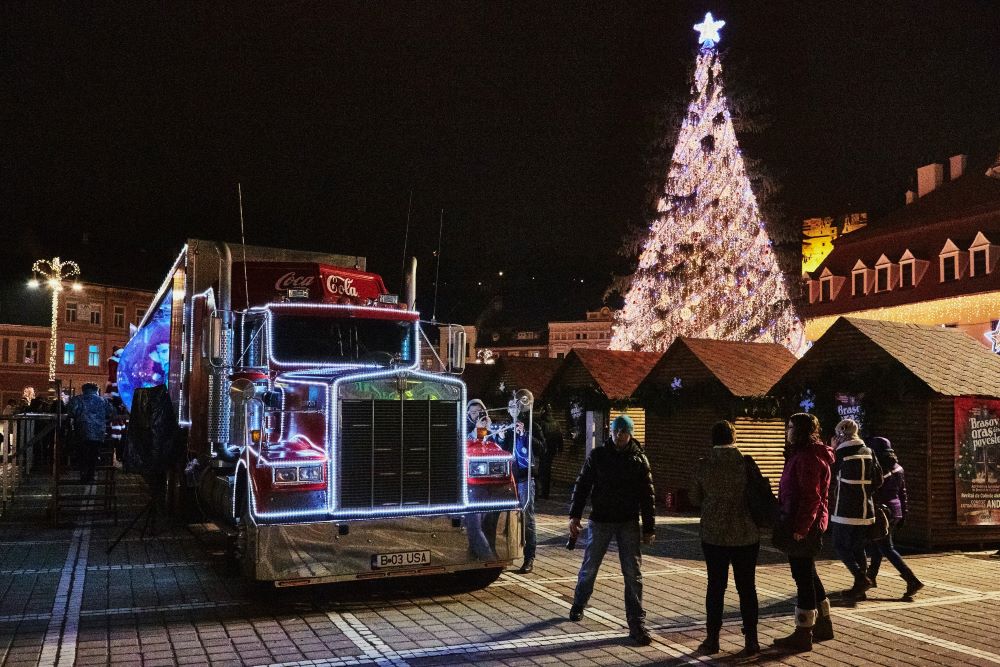 The holidays are around the corner. The festive season is the busiest time for most truckers as retail and grocery deliveries increase nationwide. But just because you'll likely be on the road during this season doesn't mean you should miss the holiday fun.
You can participate in the holiday cheer by decorating your truck with various semi-truck Christmas decorations. Here are a few semi-truck Christmas decoration ideas to help you get into the festive spirit and bring the warmth of the holidays wherever you go.
Best Semi-Truck Christmas Decoration Ideas
First things first, you need to clean your semi-truck before you consider decorating it. This will give you an idea of how much space you have to work with. It will also improve the appearance of your semi-truck and make your Christmas decorations pop. The decorations will also hold up longer when placed on a clean surface.
To prep your truck, remove any leftover debris, like food wrappers and empty drink containers, before wiping or washing all interior and exterior surfaces. Once your vehicle is ready for a festive makeover, choose an idea below and give it a personal touch.
Decorating Inside
Pick a holiday theme for your truck's interior and spruce up the entire place as you would your home. You can go with fresh greenery, hand-made décor, or an intricate combination of both. Generally, the more customized your decorations are, the more cheerful, relaxing, and closer to home they'll feel. Here are a few fun ideas to inspire you.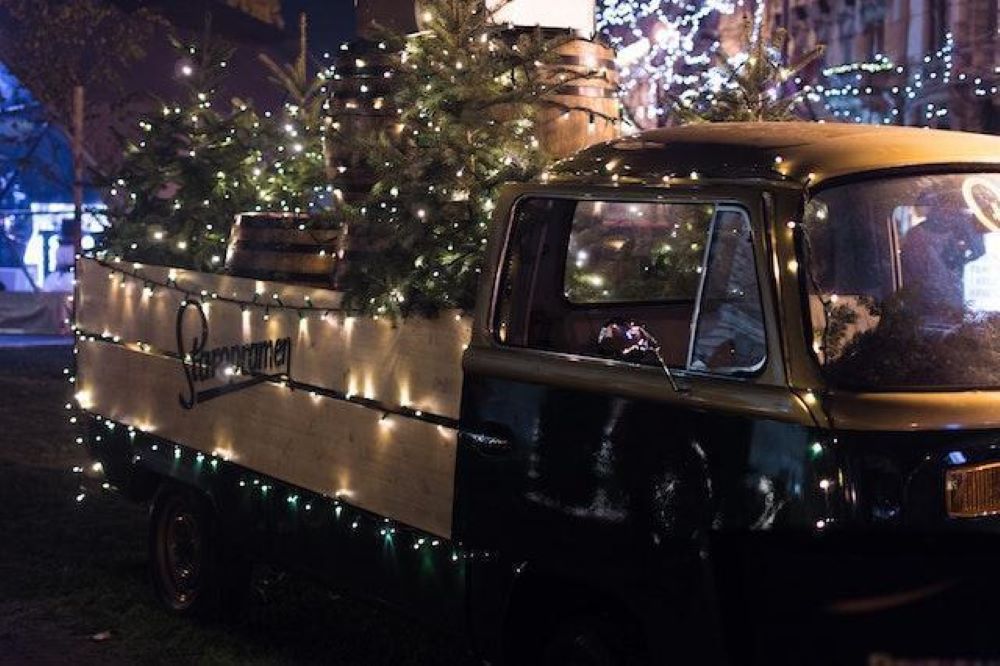 Get Holiday-themed Mats and Seat Covers
Embrace the season by getting holiday-themed seat covers, mats, blankets, and pillows. Go for the regular red and white Santa colors, festive greens, or detailed plaid patterns. They'll introduce the joy of the season into your semi-truck.
You can also hang Christmas stockings with ribbons on the sides of the bed in your sleeper area. Have them customized with your names or those of your loved ones to make your truck feel like an extension of your home.
Also, create extra sparkle on your stockings and make them unique with a few tassels and a tiny spiral evergreen shrub. These are easy to find at your local decor shop; setting them up takes a few minutes.
Most long-haul drivers prefer hanging customized stockings on the sides of their seats or the passenger's seat. Usually, they'll add candy cane posts with a twisted texture and small gifts in the stocking to delight in the giving nature of the season.
Light it Up
Nothing screams Christmas-is-here more than lights arranged in various shapes and patterns. There are two main ways to introduce the Christmas glow into your semi-truck:
Adding the traditional string lights: String lights bring your semi-truck from zero to festive within a few steps. They work well around the cab, windows, and the sleeper area. You'll need a power inverter for them to work, though. So make sure you have everything set up correctly.
Adding LED light strips: If you don't have a power inverter, use LED light strips instead. Most run on li-on batteries and don't require an inverter. They also have adhesive backs and are easy to apply or set up. Removing them after the festive season is equally easy as you can peel them off without damaging your truck.
If you're not a fan of string lights running through your cab, find glass lanterns and fill them with LED twinkle lights. Then, place them on a surface in your sleeper berth or hang them on the side "walls." You'll still experience the warm glow of the season this way.
Add Boughs of Holly
Bring the tranquility and freshness of nature into your truck with December's birth flower – the evergreen holly plant. You can create boughs of holly in varying shapes and sizes, then place them on different surfaces in your truck. When doing this, let your imagination run wild.
Mix the holly with other flowers to create perfect floral arrangements running from one end of your surfaces to the other. It could be your dashboard or the kitchen section.
You can also make classic holiday wreath centerpieces with holly, golden-colored pine cones and well-tied ribbons. These look great on stand-out plain sections in your sleeper berth.
Mix Greens and Glitter
Combine your green holly decorations with shiny metallic garland. It adds a touch of glam to your space and makes it jolly.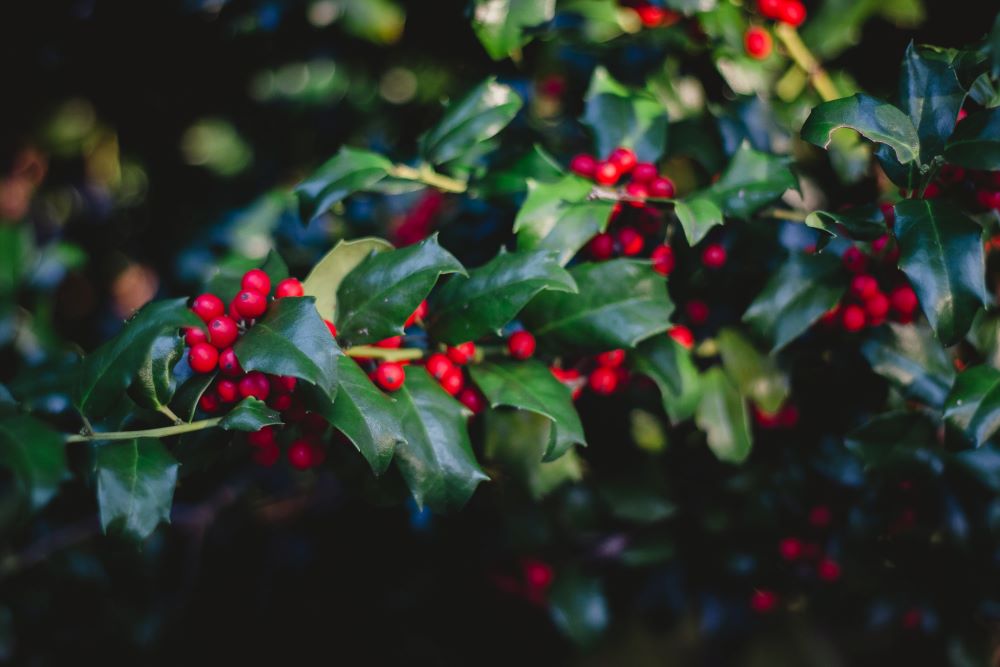 If you prefer, switch things up and have fresh green garland mixed with holly berries running through your cab, window, or sleeper area. Some drivers use these as their surface for string lights. They wrap the lights around the garland before letting it run through the truck like a string moving from corner to corner.
You can also have the garland and lights around the door of the sleeper section or let them drape over a hanging gift basket in one or more corners of your truck. Just ensure they don't block your view when driving.
Most drivers love the scent of fresh all-green garlands inside their trucks, but if you'd rather not have this, go for faux leaves or paper garlands. Fake garland leaves are easy to find in your local décor store or Amazon.
Take the DIY route for paper garlands to create the most unique designs. You'll need paper, various watercolors, or paint and brushes, but the effort will be worth it. Make this a fun family activity to bond with your loved ones and create the perfect home-away-from-home environment with hand-made décor from the family.
Use Christmas Ornaments
Christmas ornaments are a staple semi-truck Christmas decoration for truckers. They are budget-friendly and can pass as great gifts to fellow truck drivers.
Most semi-truck ornaments are also a low-key way to create the holiday mood and often last for years. They are the go-to Christmas decorations for company drivers who can't go all out on their truck Christmas décor due to restrictions from their employers.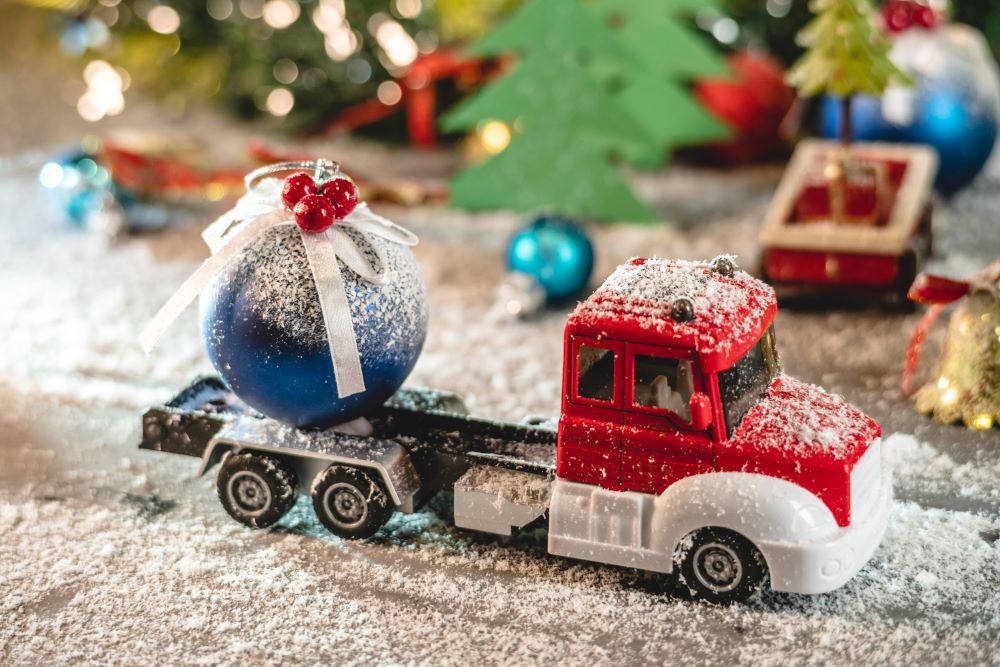 Semi-truck ornaments include small tractor-trailer models you can place on your dashboard or hang on the roof of your cab. You could also get 3D images of your truck engraved in star-shaped porcelain and hang them visibly in the driver's area.
There's also the DIY option, where you can create several Christmas ornaments using materials available in your home and local art shops. You may, for instance, create snow globes using glass jars, bottle brushes, fake snow, and glitters. Or craft 3D felt ornaments using festive green, white, and splashes of red holiday colors.
Put Up A Christmas Tree
Yes, you can put up a Christmas tree inside your truck. It won't be the same as the Christmas tree in your home, but it can still jazz up your space and complete your festive look.
Here are a few simple ideas to set up a tree with Christmas ornaments inside your truck:
Christmas card tree: Display your cards as a tree to form a Christmas card tree. It will look great on one of the walls in your sleeper berth (preferably the one closest to your bed). The size of your Christmas card tree will depend on the number of cards you get.
If you have too many cards, tie a few fresh green pine garlands to a wooden hanger and clip your extra cards on the greens to display them on a different wall. Ensure it's within reach so you can continue adding more cards as they arrive throughout the season.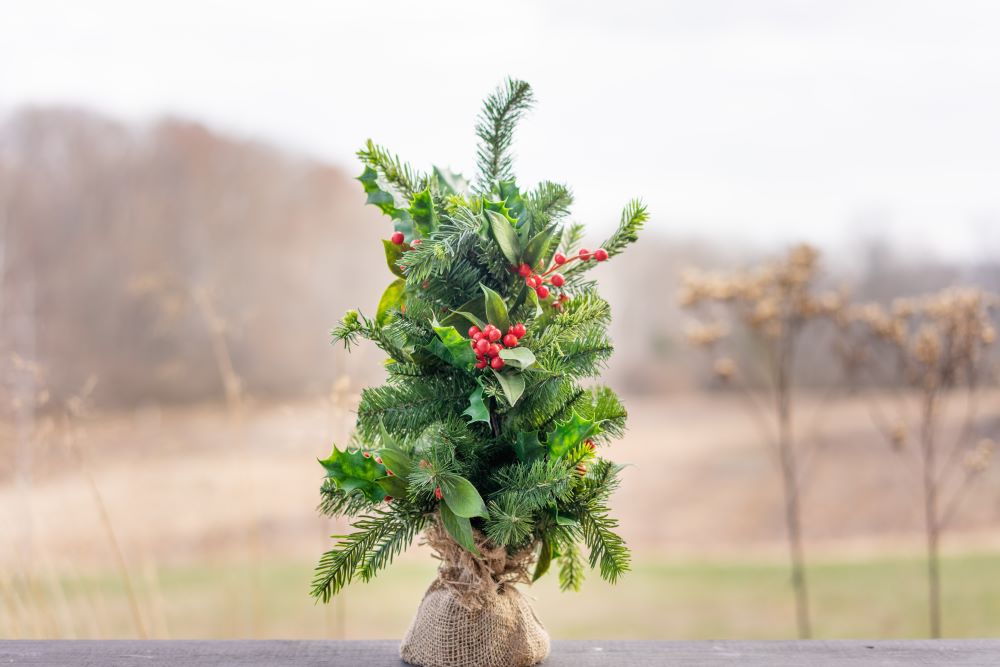 Dashboard Christmas tree: Get a dashboard Christmas tree to place on your dashboard. They resemble a tabletop tree but are way smaller. Alternatively, you can find a small twig tree and add hand-crafted décor to make it special.
Decorating Outside
On the outside, go all in on the trailer's sides but easy on the front and back sides. Avoid placing bright lights or lights that can mess with your truck's signal lights because it will confuse other drivers and may cause havoc. It could also be against the law in your state and might land you in trouble.
So make sure you check with your local Department of Motor Vehicles to confirm your city's truck decorations rules before proceeding. You may also want to check with your insurance provider to ensure you are on the same page. Most insurers consider external truck Christmas décor a modification that invalidates your cover.
Large ribbons, floral wreaths, or simple holiday messages will do for the front (on the truck grill) and back parts.
But on the sides, free the creative artist in you and work with lights and evergreen garlands. The more the merrier, provided your truck can handle it. You don't want to run down your battery's power prematurely with too many lights. To save energy and avoid being on the wrong side of the law, consider having these lights on at strategic times only.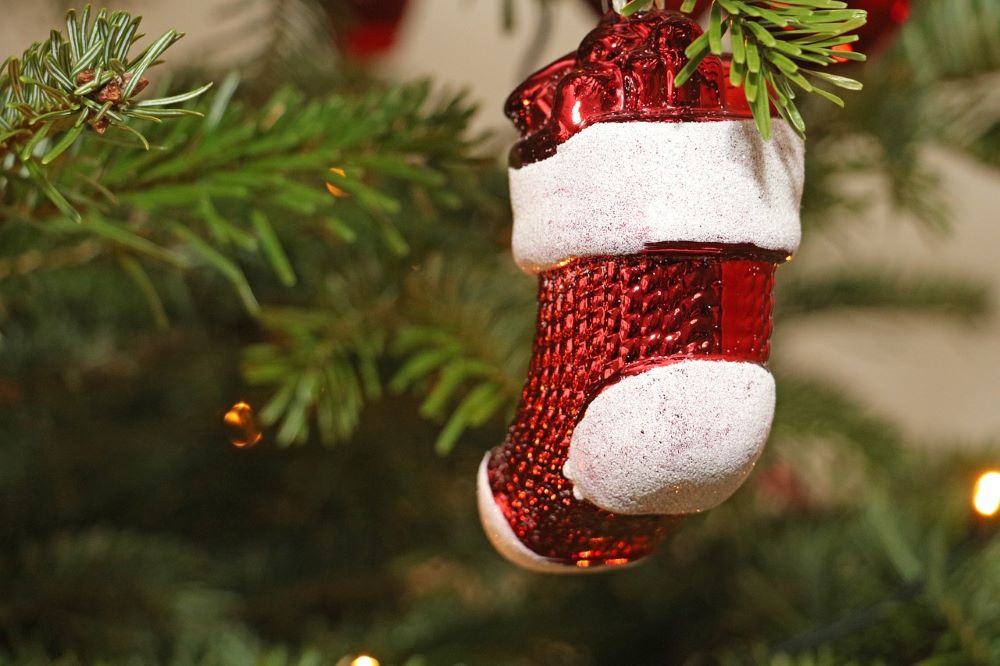 You can also put smiles on the faces of those who see you driving by telling a story with conspicuous Christmas figures like Santa, elves, and reindeer with glitter antlers or noses. Include cheerful holiday messages, too. This space is your canvas; use it to spread holiday love and joy throughout this wonderful time of the year.
Final Thoughts
Decorating your truck for Christmas is different from decorating for other holidays like Halloween. Halloween has an air of mystery, but Christmas is all about merry-making – the brighter, the better.
Even so, always put your safety and the safety of other road users first. Stay away from decorations that block your view when driving or stand in the way of other drivers. Also, steer clear of dangerous decorations like candles. They are a fire hazard in your truck.
If you're looking for holiday gifts for friends and family who love trucking, go for Christmas ornaments with engraved personal messages. They'll appreciate the gesture and can reuse the decorations year after year.
For more gift suggestions, check out our blog. We have several gift ideas for truckers to help you celebrate these unsung heroes who keep our country moving.