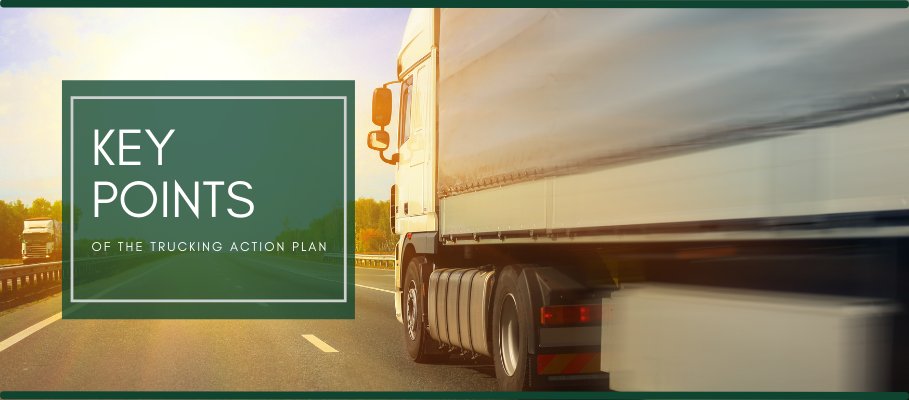 On December 16, 2021, the White House announced a comprehensive plan to recruit new truck drivers to help the supply chain recover from the current shortage while improving current working conditions to promote driver retention. This plan, coined the Trucking Action Plan, has been broken down into a series of steps, and the current administration hopes to institute it over the next 90 days.
Many owner operators have been left wondering what this plan is and how it will affect them and the industry they work for. This article will break it all down and explain what drivers can expect to come their way over the next 90 days.
What exactly is the Trucking Action Plan?
Officials describe the Trucking Action Plan as a way to "lay the foundation for a next-generation trucking workforce that will strengthen U.S. competitiveness and support millions of good driving jobs for years to come." The plan also follows the lead of the recent infrastructure legislation, which passed in November of 2021 and aimed to address current industry concerns.
The current action plan, which will take effect through a series of steps over the next 30-, 60-, and 90- days, offers six key points, including:
Offering trucking industry jobs that appeal to military veterans.
Supporting pilot programs that train and license new drivers to deliver across state lines.
Offering women more professional industry positions.
Instituting more easy-to-install apprenticeship programs.
Funding/providing assistance to states for improving their CDL processes.
Implement sessions with drivers, carriers, and industry unions to discuss concerns and enhance the workforce.
In addition to the current driver shortage and supply chain struggles, the Trucking Action Plan directly responds to a recent poll from the Consumer Brand Association. This poll found that 90% of respondents feel the trucking capacity should be increased in the new year to assist the supply chain demand, and 80% of respondents think their senators should be responsible for fixing current and future trucking industry issues.
Many respondents also gave suggestions on how to solve the most common issues that the trucking industry faces. They include:
Allowing reasonable increases to truck weight limits
Creating systems that would send empty trucks to available loads
Government funding driver recruitment and training programs
Offering flexible hours and service requirements to drivers
Government funding for the production of new heavy-duty trucks
What changes can we expect to see in the new year?
In the new year, truck drivers and fleet owners can anticipate quite a few changes in the industry. The main changes will affect the recruitment process for new drivers, but owners/operators can also expect significant changes to the workforce, hoping that driver retention will improve.
Recruitment of More Women and Veterans
During the Trucking Action Plan announcement, White House officials discussed that they intend to focus on the potential labor pool of over 70,000 military veterans when it comes to driver recruitment. Currently, veterans equate to more than 20% of the transportation industry. However, the White House plans to increase that number by working with the Veterans Employment and Training Service (VETS), the Department of Veterans Affairs (VA), and other veterans' service organizations to match military veterans and their spouses with jobs in the trucking industry. A separate task force will also encourage more women to start careers in the trucking industry.
Reformed Training Programs
Regarding training for these trucking positions, the DOL is working to establish Registered Apprenticeship programs that would allow new drivers to earn compensation as they go through training. The Department of Transportation (DOT) is also working to improve the CDL process by reducing the time between drivers passing their tests and receiving their licenses. On top of that, the DOT hopes to provide grants to states who improve their licensing process by updating their IT infrastructures. For now, the Federal Motor Carriers Safety Administration (FMCSA) will provide over $30 million to help states expedite their CDL process and send all states a "toolkit" on how to complete specific expedite actions. The White House also announced a new pilot program that will allow truck drivers under 21 years of age to drive on interstate highways.
Improved Driver Experience 
On top of recruiting new drivers, the Trucking Action Plan will aim to support the existing drivers by improving the quality of the jobs within the industry. Currently, America's truck drivers move over 70% of the nation's goods, but these same drivers lose up to 40% of their drive time due to delays, which means less income. To lessen these losses, the DOL and DOT plan to construct a compensation study to better understand how long drivers are on the road versus how long they spend waiting on loading and unloading processes. These transportation agencies will also begin regular listening sessions with drivers to use the collected feedback to push regulatory action and improve the overall quality of the various trucking industry positions.
Last updated: 12-21-21
Want more information like this? Check out these articles:
→ What Truckers Need to Know About the Vaccine Mandate
→ How Does Prop. 22 Affect App-Based Drivers?
→ How the Supply Chain Problem Will Affect the Holiday Season